Imperium
by Robert Harris
Reviewed by Annis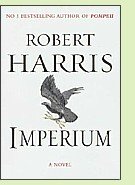 Behind every great politician stands a personal assistant. Imperium follows the career of one such successful team: the Roman lawyer, orator and statesman, Marcus Tullius Cicero, and his indispensable confidential secretary, the talented slave Tiro. Harris has reprised Tiro's long-lost memoirs of Cicero to create a political thriller full of intrigue and suspense set in the late Roman Republic of the first century B.C.
Paraphrasing the famous opening line of Virgil's Aeneid, Tiro begins his "Life of Cicero" with the words, "It is of power and the man that I shall sing". For this is a chronicle of the astonishing climb to power of an insignificant provincial advocate, lacking the wealth and family connections normally required for political advancement in the Republic, but rich in ambition, eloquence and willpower.
The brilliant, complex Cicero, with all his genius and flaws, is brought to vivid life, as are his contemporaries, among them the rival generals Pompey and Crassus; the charismatic but psychopathic Catilina, dissolute Clodius, and most dangerous of all, the urbane, coolly ruthless Julius Caesar.
Harris skillfully clarifies the complicated structure of the Republican political system and the cursus honorum, the sequential ladder of political advancement. Obvious parallels, some none too subtle, can be drawn to modern politics: the Romans lobbied, manipulated the system, and employed bribes and corruption. Imperium, the first volume of a trilogy about Cicero's life and times, culminates in a superbly tense race for the Republic's greatest political prize, the consulate.
Cicero, the man of many words, must, as ever, have the last one: "Nothing is so unbelievable that oratory cannot make it acceptable." (2006, 404 pages)
More about Imperium at Powell's Books or Amazon.com


Other novels about Cicero:
Conspirata by Robert Harris (2009; titled Lustrum in the U.K.), #2 in the Cicero trilogy. See review or more info at Powell's Books
The Lock by Benita Kane Jaro (2002), #2 in the Key trilogy. More info
Catilina's Riddle by Steven Saylor (1993), #3 in the Roma Sub Rosa mystery series. More info

A Pillar of Iron by Taylor Caldwell (1965). More info

Nonfiction about Cicero:
Cicero: the Life and Times of Rome's Greatest Politician by Anthony Everitt (2003). More info

Cicero, Selected Works (edited by Michael Grant, 1960). More info


Online:
Wikipedia article on The Cursus Honorum
First Century B.C. Roman Timeline at the "United Nations of Roma Victrix" website


Back to Historical Novels: Ancient

Back to Directory of Book Reviews