The Illusion of Murder
by Carol McCleary
Reviewed by Margaret Donsbach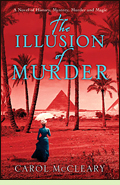 Second in a new mystery series, The Illusion of Murder centers on the around-the-world trip American journalist Nellie Bly embarked on in 1889 to beat the fictional Phileas Fogg's 80-day record.
Nellie Bly was born Elizabeth Jane Cochran. Her father rose from mill worker to mill owner and then died when she was six, leaving his large family in financial straits. Her journalism career began with a fierce letter to the editor about a sexist newspaper column. The paper hired her. Under the pen name Nellie Bly, she wrote articles about the plight of working girls, when not relegated to the fashion beat. Later, for the New York World, she feigned madness to expose barbaric conditions at a mental asylum, covered the Pullman Railroad strike, and set off on her round-the-world challenge - all by the age of twenty-five.
In the novel, Nellie's travel difficulties are compounded by the knifing of a mysterious man in a hooded djellabah in Port Said, Egypt. Near him in the crowd, Nellie goes to help and hears him whisper "Amelia" before he dies. Feeling a responsibility to deliver the news of his death to his wife, or whoever Amelia is, Nellie tries to track her down but is thwarted at every turn by her fellow ship passengers. In the mysterious East she encounters snake charmers and stage magicians whose trade secrets she learns. She also consults Madame Xi Shi, a diminutive Chinese spiritualist with bound feet who might, Nellie speculates, be the "'white crow' ... to prove that not all crows are black."
The Illusion of Murder could have benefited from editing to give it a livelier pace. As narrator, Nellie say much about her fears, perfectly normal after surviving more than one murder attempt, but the repeated emphasis tends to blunt the reader's fear, dampening tension. Judging from her adventures, the real Nellie Bly was no nervous Nellie but something of an adrenaline junkie. This novel offers a fun introduction to an amazing woman. (2011; 352 pages, including factual footnotes and an excerpt from the real Nellie Bly's book Around the World in 72 Days)
More about The Illusion of Murder at Powell's Books or Amazon.com

Other mysteries involving ships and trains:
Murder on the Lusitania by Conrad Allen (1999), about a private detective for the Cunard Line traveling incognito on the Lusitania in 1907 and investigating a series of thefts when a murder occurs; #1 in the Shipboard mystery series. More info
Murder on Deck, edited by Rosemary Herbert (1998), a collection of mystery stories featuring ships and ship travelers; while the stories are not necessarily historical, a number are set in the heyday of ocean liner travel by authors ranging from Arthur Conan Doyle and Agatha Christie to William Faulkner. More info
Murder on the Orient Express by Agatha Christie (1934), in which the dapper Belgian detective Hercule Poirot investigates murder on a passenger train carrying a variety of personalities, most of whom have something to hide; a contemporary novel in the 1930s when it was written. More info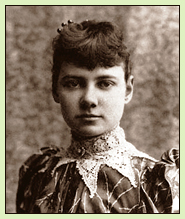 Nonfiction by or about Nellie Bly:
Around the World in 72 Days by Nellie Bly (1890), Bly's account of her record-breaking trip around the world. More info at Powell's Books
Nellie Bly: Daredevil, Reporter, Feminist by Brooke Kroeger (1994), a biography of Nellie Bly. More info
Bylines: A Photobiography of Nellie Bly by Sue Macy (2009), an illustrated biography of Nellie Bly published by National Geographic. More info

Online:
Nellie Bly, a biographical sketch at the National Women's History Museum website.



Back to Novels of Nineteenth-Century America

Back to Directory of Book Reviews