Icefall
by Matthew Kirby

Reviewed by Annis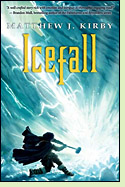 "Winter is here to wall us up, to bury us in snow and keep us safe." Icefall is a coming-of-age story about a Norse princess trapped in an icy keep. No handsome prince will come to rescue Solveig. Not even her father, a powerful Viking warrior-king, can save her. To save herself and those she loves, Solveig must become the hero of her own story.
Solveig's father has sent his family away to a remote fjord for safety while he battles a dangerous enemy. Though she longs for her father's approval, she knows she is a disappointment: the middle child, the skinny, plain one, the quiet one. Her older sister Asa is beautiful, the image of their dead mother, "her skin like new cream, her hair golden". Her younger brother Harald is bright and bold, the treasured son and heir. She is "only Solveig".
But while months go by in the crowded hall, cut off from news of home by the frozen seas, dependable, thoughtful Solveig finds she is the strong one, the peacekeeper, helping to hold together the uneasy mix of family, trusted servants and edgy, restless warriors with her talent for story-telling.
Ice, wolves, and starvation are not the only dangers they face. A traitor is in their midst. Solveig knows this traitor must be one of the people she loves and trusts, but which one?
Icefall is not full-on action adventure, but a suspenseful and atmospheric thriller. Beautifully written, this wise and moving tale with its engaging heroine who uses the power of story to overcome her fears can be read at many different levels, and will captivate readers of all ages. (2011, 336 pages. Winner of a 2012 Mystery Writers of America Edgar Award and the 2012 PEN American Center Award for Children's Literature. Recommended for ages 9-14 and older.)
More about Icefall at Powell's Books
,
Amazon.com
or
The Book Depository
Other YA novels set in the Viking era:
Bracelet of Bones
by Kevin Crossley-Holland (2011), about a girl in the eleventh century who runs away from her home in Norway and takes the dangerous road to Constantinople in search of her warrior father.
More info
The Sea of Trolls
by Nancy Farmer (2004), historical fantasy about an eleven-year-old boy and his younger sister who are kidnapped by Vikings in the year 793.
More info
Raiders from the Sea
by Lois Walfrid Johnson (2003), about a brother and sister kidnapped by Viking raiders.
More info
Nonfiction about Vikings:
Norse Myths and Legends
by Cheryl Evan (1987).
More info
The Real Vikings: Craftsmen, Traders and Fearsome Raiders
by Gilda Berger (2003).
More info
Vicious Vikings and Measly Middle Ages
by Terry Deary (2009).
More info
Online:
Vikings
at the Primary History website





Back to Directory of Book Reviews