Hugh and Bess
by Susan Higginbotham
Reviewed by Margaret Donsbach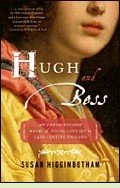 Fans of Higginbotham's The Traitor's Wife will want to read Hugh and Bess, about Eleanor de Clare's son Hugh le Despenser and Elizabeth (Bess) de Montacute. Bess is just thirteen when her marriage is arranged with Hugh, a man of thirty-two who promises to delay consummation for a year. Adding to her distaste, Hugh is the son of a much-resented favorite of Edward II who was hanged, drawn and quartered as a traitor after the king's fall from power. No longer out of favor since the fall of Edward II's queen, young Hugh le Despenser is now welcome at court. The restoration of his family estates has made him wealthy.
Hugh and Bess is the story of how Bess grows from childhood to young womanhood within this arranged marriage, a story more gentle romance than frank exploration of the nature of medieval marriage. Hugh suffers from nightmares, but otherwise seems relatively unscathed by his years of imprisonment so vividly portrayed in The Traitor's Wife. He shows a remarkable capacity for love, restraint and tenderness with his young wife.
To some readers, it may feel a bit surreal when kind-hearted, sheltered Bess joins her soldier husband outside Calais as the English settle in for a siege designed to starve the French city into submission, but the point of this episode is not grappling with the morality of siege warfare but seeing whether Bess, reunited with Hugh after a long separation, can learn to appreciate his love and understand his needs. Bess chooses not to dwell on the suffering of the French, which she can do nothing to ease, as most English wives undoubtedly did (if they even cared).
After dealing straightforwardly with the brutality of fourteenth century England in The Traitor's Wife, Higginbotham notes it in this sequel but, like her heroine, sets it in the background to focus on the central conflict of whether a very young wife can find happiness in the intimacy of married life. (new Sourcebook edition published 2009, 275 pages including an Author's Note separating history from fiction)
More about Hugh and Bess at Powell's Books
Interview with Susan Higginbotham

Novels about secondary characters in Hugh and Bess:
The First Princess of Wales by Karen Harper (2006), about Joan of Kent. More info
Queen-Gold by Philippa Wiat (1985), about Queen Philippa, the wife of Edward III. More info
The Vow on the Heron by Jean Plaidy (1980), about Edward III. More info

Nonfiction about the reign of Edward III:
The Perfect King: The Life of Edward III, Father of the English Nation by Ian Mortimer (2006). More info
The Age of Edward III by J.S. Bothwell (2001). More info
England in the Reign of Edward III by S.L. Waugh (1991). More info

Online:
Wikipedia entry on Bess's father, William de Montacute, the First Earl of Salisbury



Back to Medieval: 14th-15th Centuries

Back to Directory of Book Reviews