Howard Norman Interview
July 13, 2010
HistoricalNovels.info interviews
the author of What Is Left the Daughter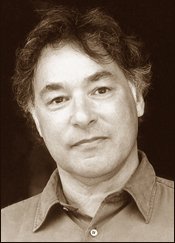 We were fortunate to have Howard Norman visit the blog July 13, 2010, to discuss his quirky novel What Is Left the Daughter, about a love triangle involving a German student in Nova Scotia during World War II. The novel features an interesting and all-too-believable cast of characters, blending comedy, tragedy and insight. Welcome, Howard!

It's a bit surprising to find library books so deeply woven into a novel full of hair-raising events. I especially liked the nuggets of wisdom from The Highland Book of Platitudes. Is that a real book?
Yes, The Highland Book of Platitudes is a real book, though probably published privately in Scotland circa 1900. Life is full of paradox: libraries, the emblems of serenity, contain thousands of stories about mayhem and murder.

You were born and grew up in the U.S. What has drawn you to write mostly about Canadian settings?
Where an author is born and raised often has no import, meaning, or importance in regard to where he or she chooses to set a novel. Some people write about Russia in 1876 when they have never themselves visited Russia, nor of course by definition lived in the nineteenth century. The imagination is what is important.

With all the attention given to the attack on Pearl Harbor, most people don't realize the extent to which German U-boats threatened the Atlantic shores of North America. How did you learn about this?
I have been visiting, for various durations of time, the Canadian maritime province of Nova Scotia for forty years, and in research, conversation, just living life, one hears what finally are the iconic stories--and the ghastly marauding of the Atlantic seaboard up there by German U-boats figured enormously in a whole generation's life. I was and remain haunted by this.


---


Review of What Is Left the Daughter by Howard Norman
See listing for What Is Left the Daughter at Powell's Books
See listing for What Is Left the Daughter at Amazon.com