Howard Andrew Jones Interview
March 23, 2011
HistoricalNovels.info interviews
the author of The Desert of Souls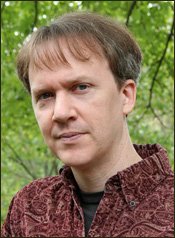 It was a pleasure to have Howard Andrew Jones visit the blog on March 23, 2011, to discuss his newly published fantasy adventure novel The Desert of Souls. Set in ninth-century Baghdad and beyond, it's full of humor, suspense and imaginative scenes. Welcome, Howard!

The djinn in The Desert of Souls is magnificent. Is he based on research?
I'm glad you liked him. The djinn in the old tales were powerful and frightening, and while the appearance and character of the djinn who appears in The Desert of Souls is my own invention, I deliberately fashioned him to evoke the feel of the djinn of myth.

I was quite taken with the sand-swimming lizard, which is real but as amazing in its own way as a creature of fantasy. How did you learn about this lizard?
I immersed myself in so many research books for so many years that some of that information, like the lizard, is too deeply ingrained for me to recall where it came from. I can remember the precise source for other incidental details -- for example, the way flies appear from nowhere at day's end, even out in the dunes, comes from a description in William Langewiesche's excellent book Sahara Unveiled: A Journey Across the Desert. It's possible that the lizard comes from that book as well, but I have a sneaking suspicion he popped up in some old National Geographic article, or in some other more obscure source.

Jaffar's niece Sabirah lives a circumscribed life, but doesn't seem as restricted as women in some modern Middle Eastern cultures (like Afghanistan under the Taliban). Do you think conditions have gotten worse over time for Middle Eastern women?
It has taken me years to become fairly well-versed in the lifestyle of eighth century inhabitants of the Abbasid caliphate, and I still do not claim to answer questions about even that period with real authority, let alone eras before or after. I will say that compared to many cultures Sabirah has a great number of privileges, but it should be noted that she is a member of the aristocracy and is being indulged more than the average woman of her time. That said, it should likewise be noted that the rights granted women by the Koran were in fact a huge advancement beyond those accorded women by almost all preceding religious or governmental documents.


---


Review of The Desert of Souls by Howard Andrew Jones
See listing for The Desert of Souls at Powell's Books
See listing for The Desert of Souls at Amazon.com