How Far to Bethlehem?
by Norah Lofts
Reviewed by Annis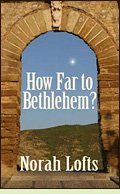 How Far to Bethlehem? retells the story of the Nativity with a warm, unaffected simplicity all the more moving for its lack of effusive sentimentality or religious solemnity.
What happens when an unmarried girl from a rural village in Roman Judea falls pregnant with the long-prophesied Messiah? Pretty, sweet-natured Mary is known for being a bit dreamy; some might even say fey. Visited by an archangel, indeed – who would believe her? "For the first time Mary saw the width of the gulf that divided what people professed to believe from what they were actually capable of believing". Even her steadfast betrothed, Joseph, struggles with his incredulity: "Messiah will come, in great power and glory, to deliver his people. But that was to be one day… There you have it, he said to himself. Belief in the past things and in the future things is easy; but here and now, that's different."
Meanwhile, in Korea portents in the stars predicting an impending birth of astonishing significance galvanize an unworldly old astronomer. He immediately sets out on a gruelling trek across Eurasia, joined along the way by two unlikely companions, a barbarian king and a runaway slave. As they converge on the small town of Bethlehem, they will join others who find that destiny has always been leading them to this particular time and place, a journey whose end is also a beginning.
Bringing depth and humanity to the stock biblical figures - Joseph and Mary, the Three Magi, the innkeeper at Bethlehem and the shepherds guarding their flocks - How Far to Bethlehem? is a vibrant tapestry of the known world during the late first century B.C., woven from the individual life-stories, the joys and sorrows, of the ordinary people who become part of an extraordinary event. Even confirmed cynics will find themselves touched by the unassuming, heartfelt faith that illuminates this Christmas classic. (1965; 352 pages)
More about How Far to Bethlehem? at Powell's Books, Amazon.com
or The Book Depository

Other novels about the Nativity and Jesus's childhood: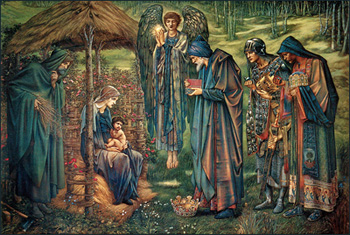 Mary of Nazareth by Marek Halter (2008). More info at Powell's Books or The Book Depository
The Nativity Story by Angela E. Hunt (2006). More info at Powell's Books; a novelization of the movie "The Nativity Story
".
Christ the Lord: Out of Egypt by Anne Rice (2008). More info at Powell's Books or The Book Depository

Nonfiction about the Nativity:
The Star of Bethlehem: The Legacy of the Magi by Michael R. Molnar (1999), explores astronomical and astrological evidence for the dating of the Christmas Star. More info at Powell's Books or The Book Depository
The Nativity: History and Legend by Geza Vermes (2007), explores the similarities and differences in the accounts of the Nativity in the Biblical books of Luke and Matthew. More info at Powell's Books or The Book Depository

Online:
A reading by T.S. Eliot of his poem "The Journey of the Magi" at YouTube



Back to Historical Novels: Ancient

Back to Directory of Book Reviews