The House of Silk
by Anthony Horowitz
Reviewed by Annis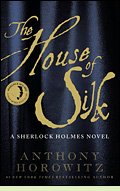 As The House of Silk begins, the Great War is raging across Europe and Sherlock Holmes has been dead a year. Dr Watson thinks of him often. "Sometimes I fancy I hear them still, those familiar words: 'The game's afoot, Watson!'" In nostalgic, reflective mood, Holmes' faithful side-kick and chronicler bequeaths us "one last portrait of Mr. Sherlock Holmes" as he sets down for posterity events originally considered "simply too monstrous, too shocking to appear in print".
Backtrack to 1890. At 221B Baker Street, Holmes and Watson are enjoying tea and Mrs. Hudson's scones when a distressed art dealer calls. He wants help to track down a mysterious stalker who has him in fear of his life. Holmes takes the case and sets in motion a labyrinthine investigation which leads the indomitable duo on a perilous hunt, following the elusive trail of a strip of white silk through the foggy, gas-lit streets of London and its gothic rural environs. At stake are the reputations of some of the highest in the land, men who will stop at nothing to protect themselves from discovery.
Horowitz offers a perspective in sympathy with modern sensibilities, but stays true to the spirit and style of Conan Doyle; familiar old characters mingle comfortably with new, and Holmes' fans will enjoy the many allusions to past cases woven seamlessly into the narrative. Holmes remains infuriatingly brilliant, cool and analytical, with Watson his foil, a humanising, steadfast presence struggling to catch up as his friend makes quantum leaps of deduction, and ruefully conceding that he "sees, but does not observe".
Happily, The House of Silk combines both style and substance. It's a cracker of a period mystery, full of dastardly murders, suspense, break-neck action and enough red herrings to distract everyone but Holmes, who to our delight not only outwits his villainous enemies but with effortless sleight of hand solves not just one, but three mysteries in the process. Elementary! (2011; 294 pages)
More about The House of Silk at Powell's Books or Amazon.com

Other non-canonical Holmesian fiction:
The Beekeeper's Apprentice by Laurie R. King (1994), #1 in the Mary Russell and Sherlock Holmes mystery series. More info
The Final Solution by Michael Chabon (2004), a mystery featuring the 89-year-old Sherlock Holmes and a nine-year-old boy who has escaped from Nazi Germany. More info
The Italian Secretary by Caleb Carr (2005), in which Sherlock Holmes and Dr. Watson go to Scotland to solve a mystery with connections to a sixteenth-century murder and a variety of seemingly supernatural manifestations. More info

Nonfiction about the fictional character Sherlock Holmes:
Close to Holmes: A Look at the Connections Between Historical London, Sherlock Holmes and Sir Arthur Conan Doyle by Alistair Duncan (2000). More info
The Mysterious World of Sherlock Holmes: The Illustrated Guide to the Famous Cases, Infamous Adversaries, and Ingenious Methods of the Great Detective by Bruce Wexler (2008). More info
The Private Life of Sherlock Holmes by Vincent Starrett (1933). More info

At the movies:
Sherlock Holmes
, the 2009 movie starring Robert Downey Jr. and Jude Law, directed by Guy Ritchie. A sequel, "Sherlock Holmes: Game of Shadows" is due for release December 16, 2011.

Online:
Conan Doyle, Holmes and Watson at the "Maddy's Ramblings" blog



Back to Novels of Nineteenth-Century Europe

Back to Directory of Reviews