The House of Lanyon
by Valerie Anand
Reviewed by Susan Gillmor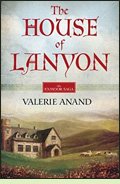 The House of Lanyon, the first in Valerie Anand's Exmoor series, centers on the lives of two families on the moors of Somerset in southwest England from 1458 to 1504. The Lanyons are hardworking and successful freemen, tenants to the Sweetwaters, who are landed gentry.
At the funeral of Richard Lanyon's irascible father George, a Sweetwater hunting party crashes through the Lanyon funeral cortege, knocking George's coffin off the pallbearers' shoulders and into the river. Richard declares, "The Sweetwaters behave as if this were the days of serfs and villeins and we were nothing but animals. Before I'm done, I swear I'll teach them different." Richard Lanyon's vengeful spirit is returned by the Sweetwaters.
Echoing through the backdrop of the story are the conflicts of the War of the Roses and, eventually, the establishment of the Tudor dynasty with King Henry VII. As the narrator suggests, "Here in this quiet corner of the southwest, the power struggles of kings and lords didn't often impinge, but it had been known to happen." Several men of both the Lanyon and Sweetwater families are called to arms during the ongoing conflicts. A chance encounter on a battlefield will bring royal rewards to the Lanyon family, making them landholders in their own right and proud residents of a rather pretentious manor house.
In the midst of feuds, arranged marriages, illicit love affairs, and the usual trappings of the best of family sagas, the land itself is a central character: "The rolling moors, which from a distance look so smooth that their colours could have been painted on them, were patched pale gold with moor grass and dark where the heather grew. Here and there were the green stains of bogs." Anand is masterful at weaving her human fiction into this celebration of the landscape.
The House of Lanyon is an auspicious beginning to a series, along the same lines as Anand's excellent Bridges over Time series, set in an earlier period. (2007; 645 pages)
More about The House of Lanyon at Powell's Books or Amazon.com

Other historical novels about family feuds:
The Lion of St. Mark by Thomas Quinn (2005), about two feuding families in Renaissance Venice; #1 in a series. More info
Cry of the Curlew by Peter Watt (1999), about families in the nineteenth-century Australian outback; #1 in a quartet. More info
Ross Poldark by Winston Graham (1945), about families in an eighteenth-century Welsh mining village; #1 in a twelve-volume series. More info

Nonfiction about the history of Somerset and the Wars of the Roses:
A History of Somerset by Robert Dunning (1978). More info
Lancaster Against York: The Wars of the Roses and the Foundation of Modern Britain by Trevor Royle (2008). More info
Wars of the Roses: A Concise History by Charles Ross (1976). More info

Online:
A Brief History of Taunton about the county capital of Somerset, at the Taunton Town Centre website



Back to Medieval: The Wars of the Roses

Back to Directory of Book Reviews