The House of Doctor Dee
by Peter Ackroyd
Reviewed by Linda Proud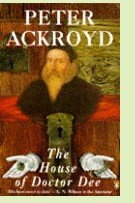 In The House of Doctor Dee, Matthew Palmer inherits a house from his father, an ancient place in a hidden part of Clerkenwell, a London with streets and alleys of evocative names that Ackroyd has lovingly detailed in previous novels. When Matthew moves into the house, he begins to suffer visions in an escalating derangement of mind.
The narrative consists of two first-person accounts, one Palmer's, the other, Dee's. For just as Palmer sees Dee, so Dee 'scries' Palmer, and the narratives of two men searching the past begin to interlock. Palmer researches old documents looking for the truth of his parenthood; Dee investigates the ancient city of London he believes to be buried underground. Both investigations lead to amazing discoveries.
Immersing himself in Dee's writings, Ackroyd creates a character with authentic dialogue without descending into pastiche; he adapts Dee's own language and makes it accessible to the modern reader while retaining a rich vocabulary and style true to the original. One unwitting result is that the Dee narrative is much more interesting than Matthew's, which seems dull in comparison, but this is too often the fate of historical novels set within a contemporary framework.
At first it seemed as if The House of Doctor Dee was typical Ackroyd in the style of his Hawksmoor – creeping menace in a London the author loves so much that he becomes self-indulgent. However, as the novel progresses, and as matters regarding the soul, time and history are explored, and as we come to the magnificent, visionary ending, Ackroyd seems less possessed by Dr. Dee than by the spirit of William Blake. This, and the virtuoso use of language in The House of Doctor Dee, marks a new stage in Ackroyd's powers. That Dee lived in Mortlake, not Clerkenwell, and that the plot is made to conform with that of a ghost story, perhaps for commercial reasons, are mere niggles.
More about The House of Doctor Dee from Amazon

Other literary novels set in two or more time periods:
Hawksmoor by Peter Ackroyd, about a modern detective and an eighteenth century London architect. More info
The Dream of Scipio by Iain Pears, about the persecution of Jews in France during the fifth, fourteenth and twentieth centuries. More info
Stone Virgin by Barry Unsworth, set in Venice during the eighteenth and fourteenth centuries. More info

Nonfiction about John Dee:
John Dee by Charlotte Fell Smith (2004), a biography of Dee. More info

Some writings of John Dee:
A True and Faithful Relation of What Passed for Many Years Between Dr. John Dee and Some Spirits (1659; reprinted 2007). More info
John Dee's Five Books of Mystery (2003), esoteric writings discovered in a hidden compartment of an old chest many years after Dee's death. More info
The Private Diary of Dr. John Dee (1842), Dee's personal diary kept from 1527-1608 in the margins of old almanacs. ebook from Project Gutenberg



Back to Novels of the Renaissance

Back to Directory of Book Reviews