The Heretic Queen
by Michelle Moran
Reviewed by Margaret Donsbach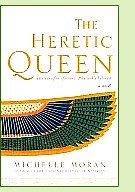 The Heretic Queen is about the early years of Nefertari, chief wife of Ramesses the Great and one of the most prominent women of ancient Egypt. Egyptologists have speculated that she may have been related to the family of Akhenaten, the monotheist pharaoh so reviled that after his death monuments were defaced to remove his and his family's names and images. Indeed, Nefertari's name is tantalizingly similar to that of Nefertiti, Akhenaten's queen.
Moran has taken this possibility and embedded it in an insightful portrayal of ancient Egyptian beliefs and customs, creating a novel about the teenaged Nefertari with enough grit and politics to keep adult readers fascinated. At the center of a power struggle between two royal women, Nefertari transforms from palace orphan to great lady, learning how to tantalize men with measured smiles and wear the most magnificent clothes with ease. She also learns to keep her own counsel. There are factions at court who wish her dead.
The joy of her wedding quickly sours. "Thousands of people filled the streets, but I saw with a rising sense of alarm that only a handful of them waved palm branches or cheered. We passed through the marketplace, and the noise of our procession made an awkward contrast to the continuing silence of the people. Ramesses raised his hand in mine and shouted jubilantly, 'Princess Nefertari!' Behind us the court echoed his cry, but in the streets the old women watched me with their arms across their breasts. At the end of the market an old woman shouted, 'Another Heretic Queen!' …"
Part confection, part political thriller, The Heretic Queen will be relished by readers looking for an intimate view of Egyptian court life in the years after Akhenaten's fall. It follows Moran's novel Nefertiti, about the Akhenaten years, but easily stands on its own. (2008, 383 pages)
More about The Heretic Queen from Powell's Books

Other novels about ancient Egyptian queens:
Child of the Morning by Pauline Gedge (1977), about Hatshepsut. More info
The Twelfth Transforming by Pauline Gedge (1984), about Queen Tiye, Akhenaten's mother. More info
Pharaoh by Eloise Jarvis McGraw (1958), about Hatshepsut. More info
Nefertiti by Michelle Moran (2007). More info

Nonfiction about Nefertari and Ramesses the Great:
House of Eternity: The Tomb of Nefertari by John McDonald (1996). More info
The Mysteries of Abu Simbel: Ramesses II and the Temples of the Rising Sun by Zahi Hawass (2000). More info
Ramesses: Egypt's Greatest Pharaoh by Joyce Tyldesley (2000). More info
Ramses II by T.G.H. James (2003). More info

Online: Tour of Nefertari's tomb from Peter Schmidt at Swarthmore College



Back to Historical Novels of Ancient History

Back to Directory of Book Reviews