Here Lies Arthur
by Philip Reeve
Reviewed by Annis


Funny, sad, sometimes shocking, Here Lies Arthur retells the story of King Arthur, the "once and future king" of legend. Though it's not a fantasy, it's about the power of fantasy. Readers will appreciate the pun in its title.
When Gwyna first sees Arthur the Bear she's a small, snot-nosed slave-girl hiding terrified in the brambles as he and his men thunder out of the night and destroy her life. "I didn't know then who he was, nor why he'd led his fierce, shiny riders to burn my home." In the chaos after Rome abandons Britain, Arthur runs a protection racket, demanding money in return for his promise not to raid. The chieftain of Gwyna's village has refused to pay the money, and now the whole village pays in blood and fire.
Arthur is violent, superstitious, and touchily proud. He thinks of little but fighting and plunder, but has a more sophisticated secret weapon: a spin-doctor, the elderly bard Myrddin. Clever, cynical Myrddin uses the magic of words to create a larger-than-life image of Arthur the Bear. Myrddin rescues Gwyna and gives her a special role: acting the part of the water-goddess who gifts Arthur a supernatural sword.
Smart, engaging and resourceful, Gwyna is a witness to the often brutal reality of Arthur's life, told in Here Lies Arthur as it might have actually happened. Through her, we see how the powerful combination of Myrddin's heroic tales and the eagerness of people to believe them transforms Arthur's story into something miraculous and hopeful. "It didn't matter any longer what the truth about Arthur had been. What mattered was the stories." (2007; 339 pages; recommended for ages 13 and up; 2008 Carnegie Medal)
More about Here Lies Arthur at Powell's Books or Amazon.com

Other YA novels based on the King Arthur legend:
The Seeing Stone by Kevin Crossley Holland (2000); the first in a trilogy about a medieval boy who sees visions of King Arthur. More info
The Last Grail Keeper by Pamela Smith Hill (2001), a time-slip novel about a modern-day girl pulled into King Arthur's day after her archaeologist mother uncovers a mysterious artifact. More info
Sword of the Rightful King by Jane Yolen (2004), about seventeen-year-old Gawaine, whose treacherous mother wishes to put him on the throne of Britain instead of Arthur. More info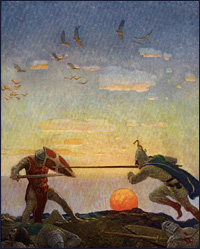 Nonfiction about how the King Arthur legend developed:
King Arthur: The Evolution of the Legend by Susan Sales Harkins (2006). More info
King Arthur: How History Is Invented by Jeremy Roberts (2001). More info

At the Movies:
King Arthur
, the 2004 film starring Clive Owen as Arthur, a Roman soldier who leads the Celts to victory after Rome abandons Britain.

Online:
Interview with author Philip Reeve at TeenInk.com
King Arthur: The History, the Legend, the King on the Britannia website



Back to Young Adult Novels: Ancient History

Back to Directory of Book Reviews