Her Royal Spyness
by Rhys Bowen
Reviewed by Susan Gillmor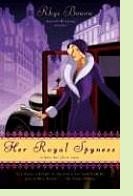 Her Royal Spyness begins what we hope will be a prolific historical cozy mystery series featuring Lady Victoria Georgiana Charlotte Eugenie, daughter to the Duke of Glen Garry and Rannoch, and fondly known as Georgie to her friends. As a great-granddaughter of Queen Victoria, she happens to be thirty-fourth in line to the throne, poorer than dirt, and, as she informs us, bred only to marry "some lunatic, buck-toothed, chinless, spineless, and utterly awful European royal, thus cementing ties with a future enemy."
The scene is set in the Spring of 1932. Georgie must flee her brother's castle in Scotland to escape a forced marriage to "Fish-Face," an insufferable Prince of Romania. But a summons by the indomitable Queen Mary, her cousin by marriage, to spy on her philandering son, Prince Edward (yes, the same one who later abdicated the throne for his American divorcee), the troubling appearance of a dead body in the bathtub of the Rannoch London house, and some disturbing evidence that someone wants her body dead, too, keep foiling Georgie's efforts to make an honest living.
The fun in this light and easy read is multifaceted, from the inside view of the snobbery and pretension of upper-crust British society to the often amusing consequences of Georgie's efforts to start a domestic agency (in which she is the only domestic). Add to that an eclectic cast of characters, including (but hardly limited to) Georgie's non-royal grandfather, a retired policeman with a heavy Cockney accent, her actress-turned-gold-digger mother, and a handsome and equally poor Irish peer of the realm.
As Lady Georgie labors to solve the murder of the waterlogged body in order to release her dense but harmless brother Binky (the current Duke) from a silk-corded noose, we watch the birth in Her Royal Spyness of a delightful new amateur British sleuth. (2007, 336 pp.)
More info about Her Royal Spyness from Powell's Books

Other humorous historical mystery series:
The Molly Murphy series, beginning with Murphy's Law by Rhys Bowen. Set in early twentieth century New York. More info
For a list of the novels in the series, in order, see the 20th Century North America page.
The Countess Ashby de la Zouche series, beginning with Unnatural Fire by Fidelis Morgan. Set in the seventeenth century Restoration court of King Charles II of England. More info
For a list of the novels in the series, in order, see the 17th Century page.

Nonfiction about Prince Edward (later, briefly, King Edward VIII), or as he was known in the family, "David":
Edward VIII: The Road to Abdication by Frances Donaldson (1974). More info
King Edward VIII: The Official Biography by Philip Ziegler (1991). More info
Online: Prince Edward's splendid midnight blue evening wear at the Metropolitan Museum of Art website



Back to Novels of 20th Century Europe

Back to Directory of Book Reviews