Heart of Lies
by M.L. Malcolm
Reviewed by Margaret Donsbach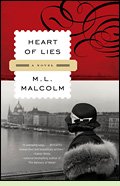 Heart of Lies follows the adventures of Leo, a Hungarian Jew at loose ends in 1919 after the Hungarian secret police murder his foster parents. Through a cover, those same secret police recruit him to travel to Paris as a translator for a covert government project. Fluent in five languages, he is a valuable member of the team - until he discovers their real mission, far more complicated and disturbing than he was led to believe.
Meanwhile, Leo has fallen instantly and passionately in love with a beautiful young woman who glanced through the window of a Paris café where he was sipping hot chocolate. After a whirlwind courtship, he has already proposed marriage when he discovers his government has betrayed him. His next impulsive act makes it too dangerous for him to remain in Paris. The only place he can easily flee to is Shanghai.
He finds Shanghai's river, the Whangpoo, "ugly and slow-moving. It stank of sludge, decay, and multiple forms of human abuse.... The Shanghailanders said one got used to the smell, in time." But the city has its advantages. "If an American committed murder in Shanghai, he might be punished. For an economic crime he was virtually untouchable. Most European residents enjoyed the same liberty. Greed and vice were the mainstays of Shanghai commerce, and Shanghai justice was as shallow and corrupt as the waters of the Whangpoo." Leo prospers financially and can finally send for his beloved Martha, but he never gets used to the city's foul smell and fouler business practices. Then, in 1927, war erupts.
A fast-moving, high-stakes plot dominates Heart of Lies. The characters' interior landscapes are briefly sketched in passing rather than fully evoked, making it difficult sometimes to sympathize with Leo's amoral behavior, for which his wife and daughter will pay a terrible price. Many readers, though, will find the twisty plot more than enough inducement to keep them turning the pages to find out what will happen next. (2010; 317 pages, including an author interview discussing the factual background behind the novel)
More about Heart of Lies at Powell's Books or Amazon.com
Interview with author M.L. Malcolm

Other novels set in Shanghai:
The Concubine of Shanghai by Hong Ying (2008), about a girl sold to a brothel in 1907 who becomes the mistress of a powerful crime lord.
More info
The Painter from Shanghai by Jennifer Cody Epstein (2008), about a child prostitute who became a celebrated painter in the early 20th century. More info
From a Far Land by Robert Elegant (1987), about three young British women in Shanghai from 1921 to 1949. More info

Nonfiction about the history of Shanghai:
Shanghai Splendor: A Cultural History, 1843-1949 by Wen-hsin Yeh (2008). More info
Shanghai: The Rise and Fall of a Decadent City by Stella Dong (2000). More info
Beyond the Neon Lights: Everyday Shanghai in the Early Twentieth Century by Hanchao Lu (1999). More info

At the Movies:
The White Countess
, a 2005 Merchant/Ivory film starring Ralph Fiennes as a blind American and Natasha Richardson as an impoverished Russian aristocrat in Shanghai on the verge of a Japanese invasion in the 1930s.

Online:
The Foreign Concessions of Shanghai: Reminder of China Past at the Thai Air website



Back to 20th Century: Europeans Between the World Wars

Back to Directory of Book Reviews