Hawk Quest
by Robert Lyndon
Reviewed by Annis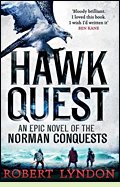 Hawk Quest reprises old-style, epic high adventure at its best. Although written on a grand, sweeping scale, human interest remains paramount and the pace never flags from start to finish; this is the work of a master storyteller.
Fate directs the steps of Frankish outlaw Vallon when one autumn day in 1072 he encounters Cosmas of Byzantium while seeking shelter from a blizzard in the Alps. He reluctantly inherits both the dying magus' young Greek assistant and his commission to negotiate the ransom (set, in lieu of gold, at four rare white gyrfalcons) for an Anglo-Norman knight captured by the Seljuks at Manzikert. Vallon's intended path to Constantinople suddenly takes an unforeseen, danger-fraught detour through ravaged post-Conquest England, over the stormy northern seas to Iceland and Greenland and along the old Viking trade route across Russia to Anatolia.
Vallon is a brooding loner, a man embittered by betrayal and suffering. Once a respected military commander, he's now just another sell-sword. However, the charisma and innate authority of a natural leader attract to his side an odd collection of loyal companions undeterred by his forbidding aspect. All have their own stories; some have hidden agendas. All will be tested. Not everyone will make journey's end.
Hawk Quest's vigorous narrative is driven by the ongoing development of its complex, fascinating characters and their interaction with each other. Quality craftsmanship enhances but never overwhelms a compulsively readable tale full of heart-stopping action, intrigue and suspense. A subtle wealth of historical detail vividly evokes a period in turbulent transition: as the Anglo-Saxon/Viking era wanes the Normans are in the ascendant; old pagan beliefs linger but Christianity now prevails; Islamic tribesmen challenge the once-mighty Byzantine Empire. Although there are no fantasy elements, the potent, tangible presence of the natural world stirs a prickling sense of destiny at work and legend in the making. An impressive debut, Hawk Quest bids fair to become a historical adventure classic. (2012; 672 pages including a Brief Chronology and map)
More about Hawk Quest at Powell's Books, Amazon.com
or The Book Depository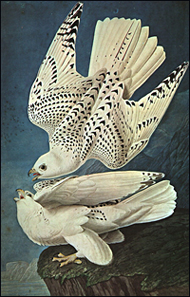 Other epic historical adventures:
Silk Road by Colin Falconer (2011), about a Mongol princess and a Templar knight who meet when he is sent to Mongolia to convert the Great Khan to Christianity and negotiate an alliance with the Khan against the Saracens. More info
The Journeyer by Gary Jennings (1983), about Marco Polo's journey to China. More info
Durandal by Harold Lamb (1931), about a Frankish knight who vows vengeance after his company is betrayed by its allies during a battle at Antioch. See review or more info at Amazon.com

Nonfiction about the lands through which Vallon journeys:
The Norman Conquest by Richard Huscroft (2009). More info
The History of the Medieval World: From the Conversion of Constantine to the First Crusade by Susan Wise Bauer (2010). More info
The Venture of Islam, Vol. 2 : The Expansion in the Middle Periods by Marshall G.S. Hodgson (1977). More info

Online:
A Description and History of Falconry at the Wingmasters website.



Back to Medieval: The 6th-11th Centuries

Back to Directory of Book Reviews