Harvest
by Jim Crace

Reviewed by Annis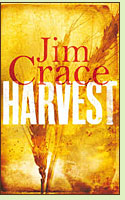 A sinister, lushly poetic allegory, Harvest is set in Tudor England at a remote settlement deep in the countryside; a traditional, medieval-style holding where an ancient covenant between landowner, tenant-labourers and the land itself allows "a slow-paced commonwealth of habit, custom and routine" to flourish. From the ambiguous perspective of villager Walter Thirsk we witness the violent implosion of a close-knit rural community; a centuries-old way of life unmade in just seven days.
Even after twelve years, Walter is still an outsider in the tiny hamlet, connected only by marriage, not blood. His neighbours are kin to each other, parochial, "rooted in their soil, planched and thicketed." Their lives are shaped by the seasons and the powerful presence of the natural world. Disquieting echoes of darker, pagan times linger. What sacrifice might this beautiful but "inflexible and stern" land demand as its due? Only canny Walter senses change in the air. Master Kent, the landowner, has lost heart, the village is in decline. Enclosure is coming: "sheaf is giving way to sheep".
Fraught with foreboding, Harvest is superbly crafted in intoxicating, sensuous prose, rich in biblical allusion and earthy metaphor. Paralleling current issues - environmental pillage, economic disparity and wholesale population displacement - this is clearly a parable for today. Its moral? "As ye sow, so shall ye reap". No one in Crace's cautionary tale is blameless – all collude in their communal disaster. Master Kent cravenly breaks faith with the land and his hapless tenants, abandoning both to the tender mercies of his cousin, a dangerous bully whose mantra is "Profit, Progress, Enterprise". Faced with crisis beyond their comprehension, the villagers panic and make scapegoats of innocent strangers seeking refuge, setting in motion unstoppable catastrophe. Walter lies low, choosing not to act at times when he might have changed the course of events. The last harvest is a bitter one, blighted by the worm in the bud. It could be our own. (2013, 224 pages)
More about Harvest at Powell's Books
or
Amazon.com
Other novels set in rural English villages:
John Saturnall's Feast
by Lawrence Norfolk (2012), a literary fable set in a fictional Somerset village in the seventeenth century. See
review
or
more info at Powell's Books
Down the Common: A Year in the Life of a Medieval Woman
by Ann Baer (1997), about a peasant woman in a medieval village. See
review
or
more info at Amazon.com
Ulverton
by Adam Thorpe (1992), about life in a small English village over three hundred years, beginning in 1650.
More info
Nonfiction about rural England in past times:
The Lost Villages: In Search of England's Vanished Communities
by Henry Buckton (2008).
More info
The Rural Economy of England
by Joan Thirsk (2003).
More info
Life in a Medieval Village
by Frances Gies (1989).
More info
Online:
The Tudors: Agriculture and Enclosure
, at the Spartacus Educational website
A seventeenth-century poem of protest against the enclosure of previously common land:
The Goose and the Commons
The law locks up the man or woman
Who steals the goose from off the common
But leaves the greater villain loose
Who steals the common from the goose.
The law demands that we atone
When we take things we do not own
But leaves the lords and ladies fine
Who take things that are yours and mine.
The poor and wretched don't escape
If they conspire the law to break;
This must be so but they endure
Those who conspire to make the law.
The law locks up the man or woman
Who steals the goose from off the common
And geese will still a common lack
Till they go and steal it back.
Back to Novels of the Renaissance
Back to Directory of Book Reviews