The Guernsey Literary and Potato Peel Pie Society
by Mary Ann Shaffer and Annie Barrows
Reviewed by Susan Gillmor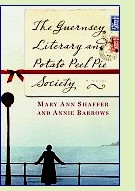 In The Guernsey Literary and Potato Peel Pie Society, Mary Ann Shaffer and Annie Barrows have conceived and executed a rare treat in epistolary form—a collection of fictional letters which tell the story of Guernsey during World War II. In 1946 England, journalist Juliet Ashton, best known under the byline Izzy Bickerstaff for her morale-boosting newspaper column, is in search of a serious writing assignment.
Juliet unexpectedly receives a letter from Dawsey Adams on the Isle of Guernsey. He found Juliet's name and address on the leaf of a book of Charles Lamb's essays. Juliet's curiosity is piqued by Dawsey's mention of a club, The Guernsey Literary and Potato Peel Pie Society, which emerged on his island during its German occupation. Their correspondence soon expands to include multiple islanders with myriad stories of their beloved and unusual book group and the role books played to help them survive their ordeals.
The literary society's members range from Isola, a Brontë-loving spinster lady who sells "elixirs . . . to restore manly ardor;" the counterfeit Lord Tobias, who reads only Seneca and co-opted the identity of his erstwhile employer. He writes that Seneca once said, "Light griefs are loquacious, but the great are dumb." The islanders' letters convey many light griefs in their rambling, friendly pages; the heavy griefs are between the garrulous lines. Running through all the letters are stories of Elizabeth McKenna, friend to all and now noticeably absent from Guernsey.
Juliet's correspondence leads her to her next serious writing project and to the mailboat that will take her to Guernsey to meet her new friends. The Guernsey Literary and Potato Peel Pie Society is a warm, entertaining, and charming story that recaptures the genius of the epistolary novel of another age. (2008, 288 pp.)
More about The Guernsey Literary and Potato Peel Pie Society from Powell's Books

Other epistolary novels:
Pamela: or, Virtue Rewarded by Samuel Richardson (1740), the melodramatic great-great-grandmother of epistolary novels, about a young maidservant's steadfast determination to protect her virtue when she is propositioned by her employer; technically not historical fiction, since the setting was contemporary when Richardson wrote it.
The Color Purple by Alice Walker (1982), about a young black woman in Depression-era Georgia who struggles for self-esteem while living under the control of an abusive man
Fair and Tender Ladies by Lee Smith (1988), about a girl growing up in Appalachia during the early 1900s.

Nonfiction stories told in epistolary form:
84 Charing Cross Road by Helene Hanff (1970), the correspondence between the New York author and a London bookseller as the author searches for obscure books and classics of British literature she has been unable to find in New York.
Ashen Sky: The Letters of Pliny the Younger on the Eruption of Vesuvius (A.D. 79; edited and translated by Barry Moser 2007), two letters from Pliny the Younger to Tacitus describing the eruption of Vesuvius which he witnessed.
Down and Out in the Great Depression edited by Robert S. McElvaine (2008), a selection of the letters written by ordinary men, women and children to President Franklin D. Roosevelt during the Great Depression.



Back to Historical Novels: World War II

Back to Directory of Book Reviews