The Green Popinjays
by Eleanor Fairburn
Reviewed by Annis


An aristocratic medieval wild child is the subject of The Green Popinjays, Fairburn's assured debut novel, based on historical fact. Notorious Lucia de Thweng flouts convention, following no will but her own, leaving broken hearts and lawsuits in her wake.
Three green popinjays - parrots - decorate the heraldic arms of the de Thweng family, powerful North Yorkshire nobility of the thirteenth and fourteenth centuries. To little Lucia de Thweng, though, the popinjays with their emerald eyes carved in the head of the bed where her Grandmother de Brus lies ensconced are just part of a joyful game she plays with her "ganna". All too soon her grandmother dies, leaving the already orphaned Lucia a great heiress.
Left to the loving guardianship of her aunt and uncle, Lucia clings to the security of her home, Kilton Castle in Cleveland, and to the understanding that she will marry her adored cousin Marmaduke. But Lucia is a royal ward. King Edward I won't be gainsaid when he grants fifteen-year-old Lucia and her considerable holdings to the son of his friend, Sir William le Latimer. Volatile, self-willed Lucia refuses to accept her enforced marriage. Frantic with grief and rage, she abandons her despised husband and new baby, embarking on a rebellious series of affairs that make her the scandal of Yorkshire. Despite her imperious, hot-tempered nature, her striking looks, charisma and aura of sensuality make her irresistible to men.
The Green Popinjays avoids sensationalism, allowing the events of Lucia's tempestuous life to speak for themselves, and showing her actions in a sympathetic light, despite her sometimes contradictory nature and attention-seeking behaviour. Lucia is a romantic, tragic figure, a lost soul battering at life like a bird against a windowpane. Only in middle age does she come to terms with herself, finding peace while staying at a Cistercian nunnery, and late, unlooked-for love in Venice, far from her Yorkshire home. (1962; 224 pages)
More about The Green Popinjays at Amazon.com

Other novels by Eleanor Fairburn:
The White Seahorse (1966), about the female Irish pirate Gráinne Ní Mháille (Grace O'Malley), who roamed the seas during the reign of Queen Elizabeth I. More info
The Rose in Spring (1971), #1 in a quartet about Cecily Neville, Duchess of York, the mother of the English kings Edward IV and Richard III. More info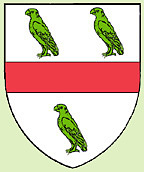 Nonfiction about England during the reigns of Edward I and II:
The Three Edwards by Thomas Costain (1959). More info
The Lady in Medieval England, 1000-1500 by Peter Coss (1998). More info

Online:
The Thweng Family, c.1223 to c.1323, a dissertation by Simon Ross.



Back to Medieval: Late 13th, 14th and 15th Centuries

Back to Directory of Book Reviews