The Green Man
by Henry Treece
Reviewed by Annis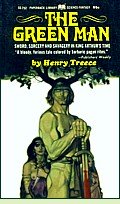 The Green Man is a primal archetype. He represents man's link with untamed, fecund nature, the seasons, and the cycle of birth, regeneration and death. Treece takes this mythic symbol and weaves his tragic hero, Amleth, the Green Man of Vendilsgarth, into a dark, haunting story as old as time, a story of bitter sibling rivalry, covetous lust, incest, murder and vengeance. Set in sixth-century Denmark, this is a very different version of the tale made famous by Shakespeare's play "Hamlet".
When Feng murders his brother, King Vendil of Jutland and usurps his throne, he commits not only fratricide but also sacrilege. The Jutlanders venerate the numinous forces of the natural world, placating them with primeval rituals of blood and sex. Their king and queen embody the divine powers of the King of the Wood and the Barley Queen. The forest itself chooses Vendil's warrior son Amleth as king, proving false the claim of his kin-slaying uncle. But with the collusion of King Beowulf of the Geats, Feng sends Amleth to a pre-arranged death in Britain at the hands of Duke Arthur the Bear. Meanwhile, Amleth and his fearsome mother, Queen Gerutha, vow blood-feud against Feng.
Despite faint gleams of ancient grandeur, Amleth's world is dark and savage. Men alleviate its harshness by rutting, drinking, and boasting about their own deeds and those of their heroes. Their boasting glorifies a less than heroic reality. Beowulf is a lethal, amoral pirate, and Duke Arthur balding, arthritic and ruthlessly pragmatic. Men smile with bared teeth and hand on sword; violence and treachery lie close behind affable welcome. Surrounded by predators, Amleth appears to lead a charmed life, but the Green Man is also the King of the Year. For spring to follow winter, the King must die when his task is done, his sacrifice surety for the renewal of life. This magnificently somber drama can have no happy ending. (1966, 253 pages)
More about The Green Man at Amazon.com

Other novels about ritual kingship:
The King Must Die by Mary Renault (1958), about a young Greek adventurer chosen as an annual king when he visits Eleusis. See review or more info at Powell's Books
King of the Wood by Valerie Anand (1989), about the resurgence of pagan ideas during the eleventh-century reign of King William Rufus. More info
The Moon Under Her Feet by Clysta Kinstler (1989), a retelling of the story of Mary Magdalene and Jesus which presents the crucifixion in the light of pagan myths about king sacrifice. More info

Nonfiction about the Green Man:
The Green Man by Kathleen Basford (1978). More info
Green Man: The Archetype of Our Oneness by William Anderson (1991). More info
Walking with the Green Man by Bob Curran (2007). More info

At the Movies:
Hamlet
, the 1948 film of Shakespeare's play starring Laurence Olivier as Hamlet. A classic.
Hamlet
, the 1991 film starring Mel Gibson as Hamlet. Not bad, and perhaps the easiest to follow for viewers who have a hard time with Shakespearean dialect.
Hamlet
, the 1996 Kenneth Branagh film starring Kenneth Branagh as Hamlet, and relocating the story to a 19th century setting. Derek Jacobi as Claudius turns in a mesmerizing performance that restores this role to its proper place as the fulcrum around which Hamlet's story turns.
The Wicker Man
, a 1973 film starring Edward Woodward and Diane Cilento about a modern police investigator who travels to a remote island in the Hebrides known as Summerisle to investigate a girl's disappearance, thereby stumbling into a modern-day re-enactment of the pagan annual king sacrifice. A cult classic.
The Wicker Man
, a 2006 remake of the original 1973 film, produced by Nicholas Cage and starring Nicholas Cage and Ellen Burstyn. Not recommended – see the original instead.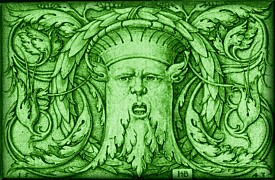 Online:
"Amleth, Prince of Denmark", the text of the story (in slightly updated English) from Shakespeare's inspiration, the "Gesta Danorum" of Saxo Grammaticus, written around 1185 based on an older oral tradition.
"Green Man" article at Wikipedia
"Notes on Perception and Vision", a collection of notes written by Henry Treece before his death in 1966 about his philosophy of writing novels.



Back to Europe from 500 A.D.

Back to Directory of Book Reviews