The Greatest Knight
by Elizabeth Chadwick
Reviewed by Margaret Donsbach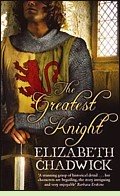 The Greatest Knight is a biographical novel about a man at the center of events during the turbulent reigns of Henry II and his sons. In his own time, William Marshal captured the public imagination as rock stars do in our own, but today few people have heard of him. Hopefully, this novel will correct that.
As an impoverished young knight, William Marshal followed the tournament circuit in France, where it was customary to capture as many other knights as possible in the wide-ranging melees and demand ransom money for their release. Marshal was a natural at it - he was said to have fought in 500 tournaments without losing once - and he didn't stay impoverished long. Far more remarkably, he served different members of the contentious family of Henry II and Eleanor of Aquitaine in one or another high capacity through times when the infighting among them broke into open warfare, but he never permanently lost favor with any of them.
We meet Marshal during his youth as a squire in an uncle's household and follow him for almost three decades, ending with the crisis of Prince John's attempt to seize the throne after King Richard disappears on his return voyage from the Third Crusade. Chadwick's prose and narrative style are competent and straightforward, if not particularly elegant. What makes The Greatest Knight exceptional is the consistently pitch-perfect way in which its medieval characters think, feel and behave. Not for a moment does an anachronistic thought or attitude slip through any of their minds. The texture and psychological depth of their portrayal gains the reader's sympathy and understanding even as they make decisions most of us would find objectionable today.
And yet William Marshal offers an example we might do well, even now, to emulate. "I do value loyalty," King Richard tells him, "but I value your integrity more. . . . You will do what is right and just." (2005; Sourcebooks edition 2009, 549 pages including an Author's Note separating fact from fiction)
More about The Greatest Knight at Powell's Books or Amazon.com
Interview with author Elizabeth Chadwick

Other novels featuring William Marshal:
The Scarlet Lion by Elizabeth Chadwick (2006), about William Marshal and his wife Isabelle de Clare. See Review or More info at Powell's Books
A Pride of Kings by Juliet Dymoke (1978). More info
Champion by Christian Balling (1988). More info
Dawn of the White Rose by Mary Pershall (1985), historical romance about Marshal's wife, Isabel de Clare; #2 in the Roses series. More info

Nonfiction about William Marshal:
William Marshal: Knighthood, War and Chivalry, 1147-1219 by David Crouch (2002), highly recommended by author Elizabeth Chadwick.
More info
William Marshal: Knight Errant, Baron and Regent of England by Sidney Painter (1933). More info
History of William Marshal, (originally written in French as L'Histoire de Guillaume le Maréchal shortly after Marshal's death in 1219; modern English translation by S. Gregory and D. Crouch, 2002).

At the Movies:
A Knight's Tale
is a 2002 film starring Heath Ledger as "William Thatcher," a peasant who rises to become a knight through valor, skill and determination. It incorporates rock-and-roll music into its jousting scenes, among other anachronisms, but also incorporates incidents from William Marshal's life into the plot.
The brilliant 1968 film of The Lion in Winter
starring Katherine Hepburn and Peter O'Toole as Eleanor of Aquitaine and Henry II, includes a brief scene in which William Marshal (played by Nigel Stock) appears. It also features young actors Anthony Hopkins and Timothy Dalton in their first movie roles as Richard the Lionheart and Philip of France. Not to be missed.

Online:
"William Marshal" at CastleWales.com
"William Marshal" at author Elizabeth Chadwick's website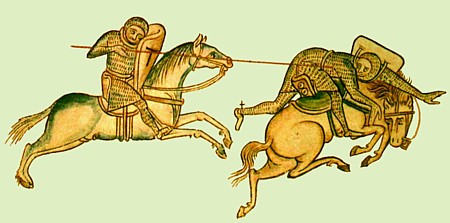 Back to Medieval: The Angevins

Back to Directory of Book Reviews