Great Maria
by Cecelia Holland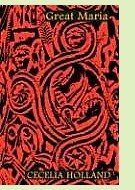 Great Maria is about a woman in eleventh century Sicily, the daughter of a fictional Norman robber baron. To her credit, Holland makes no attempt to provide the reader with a broad-brush view of the region's complex politics, a patchwork of Lombards, Normans and Saracens struggling for control over various pieces and portions of the land. She simply plunges us into Maria's world.
Maria is fourteen when the story opens, pious, strong-willed and earthy. Since her mother's death, she has served as her father's chatelaine. She has just awakened to the attractions of men when her father asks her to marry one of his knights, not the charming one who has caught her eye, but his more drab and unsmiling brother. Her first instinct is to rebel, but she agrees to listen to Richard's suit: "Your father is a robber, he'll never be anything else. Roger just wants to be the King of the Robbers. But there's something else to be done here. This castle's at the throat of the whole region… Someone is going to make himself great here, why should it not be me?" His argument catches her imagination. She agrees to marry him.
Great Maria is the story of their marriage. They are more often antagonists than partners. Richard is a hard man, quick to lash out with a fist if she crosses him. As he learns to respect her intelligence and determination, though, she begins to respect his. The story is about her struggle to be his full partner, sometimes at his side as they fight for common goals, and sometimes against him as she fights for his respect and recognition.
Holland's prose has a bony quality, direct and unsentimental. Her characters are no sweeter than the times they lived in. But as she layers detail upon detail, the harsh eleventh century world of her story surrounds the reader with an almost tangible presence. Her characters breathe and bleed. (1974, 540 pages)
This is on my list of The Ten Best Historical Novels I Read in 2008.
More info about Great Maria from Powell's Books
More info from Amazon.com

Other novels set in medieval Sicily:
The Ruby in her Navel by Barry Unsworth, set in twelfth century Sicily. Review
For more, see the article Historical Novels Set in Medieval Sicily

Nonfiction about eleventh century Sicily:
The Norman Conquest of Southern Italy and Sicily by Gordon S. Brown. More info



Back to Novels of Medieval Europe

Back to Directory of Book Reviews