Grave Goods
by Ariana Franklin
Reviewed by Susan Gillmor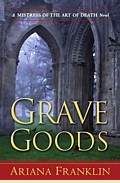 In Grave Goods, Adelia Aguilar, "Medica of the Salerno School, mistress of the art of death and agent to King Henry II of England," returns for her third adventure in her intriguing role as medieval forensic physician-cum-detective.
After Glastonbury and its wealthy abbey burn to the ground, two mysterious skeletons are unearthed from the ruins. On this site of mystical Avalon, rumors abound that the remains may belong to King Arthur and his queen. King Henry, hopeful a positive identification will quell the Welsh hope that Arthur will return to win their independence from English rule, commissions Adelia to determine the bones' provenance. The conflagration has destroyed the holy relics that drew thousands of pilgrims (along with their shillings and pence) to Glastonbury. Adelia's decision about the skeletons will dictate "a great Abbey's future. . . the rebuilding of an entire town, . . . the dream of so many." Meanwhile, Adelia's friend Emma disappears under suspicious circumstances when she attempts to claim an estate for her young son.
In simple but literate prose, Grave Goods offers a gripping mystery wrapped in the atmosphere of a "time-fogged legend." The relatively enlightened views radiating from Ariana's home in Salerno, Italy, and the Byzantine culture of Mansur, her Islamic assistant and companion, contrast with those of a medieval English population steeped in superstition. "[T]his was Glastonbury magic; she was being entwined by legends, holy springs, dreams, ghosts, swords that came alive, . . . all of them delusion."
As the pair rubs elbows with both uppercrusts and outlaws, Ariana muses, "Only the upper classes, where ladies were dependent on their lords, could afford to regard women as inferior." Grave Goods is a most diverse and diverting novel. (2009, 336 pages including an author's note separating history from fiction)
More about Grave Goods at Powell's Books

Other medieval mysteries that reach back to earlier times:
The Brothers of Glastonbury by Kate Sedley (1997), about a fifteenth century peddler, once a monk at Glastonbury Abbey, who escorts a bride to Glastonbury for her marriage and must then find the groom, whose disappearance may be connected with a scroll written in an ancient language. More info
Solace for a Sinner by Caroline Roe (2000), about a blind Jewish physician in fourteenth century Spain who investigates murder as rumors about the Holy Grail stir up religious fervor. More info

Nonfiction about Glastonbury Abbey and the grave said to be Arthur's:
Glastonbury Abbey and the Arthurian Tradition by James P. Carley (2001). More info
Glastonbury: Myth and Archaeology by Philip Rahtz and Lorna Watts (2003). More info
The Medieval Quest for Arthur by Robert Rouse and Cory Rushton (2005). More info

Online:
Two eyewitness accounts of the twelfth century exhumation of the grave said to be King Arthur's at www.Britannia.com.