Good Masters! Sweet Ladies! Voices from a Medieval Village
written by Laura Amy Schlitz and illustrated by Robert Byrd
Reviewed by Margaret Donsbach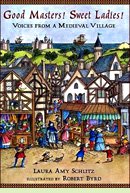 Good Masters! Sweet Ladies! was written for a group of students studying the Middle Ages and is meant to be performed before an audience. There are parts for twenty-one players in the book, most in the form of verses to be performed by a single player, with two dialogues for two players each. The verses offer vivid glimpses into the lives of medieval young people aged about ten to fifteen years old, each with a distinct personality. Sometimes a verse will continue a story begun in an earlier verse, as with the lament of Isobel over her stained silk gown:
I passed through the town on my way to the market
and somebody threw it – a clod of dung.
I saw the boys, but I didn't know which –
I was walking eyes down, as a modest maid should.
The next voice is from someone unexpected:
I shouldn't have done it.
I knew it was wrong
when the muck left my hand –
it was folly and cruelty
And I wish I hadn't.
The stories in Good Masters! Sweet Ladies! reflect the harsh realities of life in the Middle Ages, but the feelings of the young characters are timeless. (2007; 85 pages; recommended for ages 10 and up; 2008 Newbery Medal winner)
More about Good Masters! Sweet Ladies! at Powell's Books or Amazon.com

Other books about medieval children:
Catherine, Called Birdy by Karen Cushman (1994), about an English nobleman's daughter in 1290 who longs for adventure and doesn't want to get married. Recommended for grades 6-9. See Review or More info at Powell's Books
Matilda Bone by Karen Cushman (2000), about a well-educated girl in medieval England whose life changes when she becomes the assistant to a bonesetter. More info

Nonfiction for children about the Middle Ages:
Children and Games in the Middle Ages by Lynne Elliott (2004). More info
Manners and Customs in the Middle Ages by Marsha Groves (2006).
More info
Life on a Medieval Manor by Marc Cels (2004). More info

Online:
Medieval Realms an illustrated guide to life in the Middle Ages



Back to Young Adult Novels: Medieval

Back to Directory of Book Reviews