The Golden Mean
by Annabel Lyon
Reviewed by Margaret Donsbach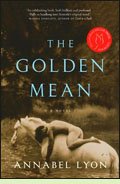 What drove Aristotle to develop his theory of the Golden Mean? How could a man devoted to moderation and reason succeed as tutor to Alexander, the future conqueror of most of the known world?
Exploring these questions, Lyon's novel brings Aristotle to life as a man who yearns for love and acceptance but struggles with disappointment and a strange affliction that plunges him into fits of melancholy. "My father taught me long ago that black bile can be hot or cold. Cold: it makes you sluggish and stupid. Hot: it makes you brilliant, insatiable, frenzied. Like the different stages of drunkenness, you see? Only my father didn't realize that none of this had to be bad. The people who find the balance between the extremes--" Aristotle wields philosophy as valiantly, in his way, as Alexander wields more physical weapons when he rushes headlong into warfare as the novel ends.
The Aristotle who narrates The Golden Mean does not want or intend to be a teacher. But his fascination with everything odd, mysterious and difficult seems to tempt him ever deeper into the project Philip of Macedon sets for him. First, he helps Alexander's mentally damaged elder brother: "The smell is thick, an animal musk. . . . Despite the mask of foolishness, I can see the king his father in him . . ." Then it is Alexander, gifted with intelligence, ambition, glamour in abundance--but also damaged. Philip's heir, he must be made into a king.
The writing is brisk, hearty, wistful, casually shocking and thoughtful by turns, as it suits the story. History scholars may object to Aristotle's presence at one of Alexander's early battles, but the episode serves a deeper truth. Reminiscent of the best of Mary Renault and Rosemary Sutcliff in its easy familiarity with the ancient world, The Golden Mean whisks the pedestals out from under two towering historical figures, showing us their true greatness in rendering them human. (2009; 284 pages, including and Afterword and Acknowledgements separating history from fiction and listing major historical works consulted)
More about The Golden Mean at Powell's Books or Amazon.com

Other novels about Alexander and Aristotle:
Fire from Heaven by Mary Renault (1969), about Alexander's youth and his studies with Aristotle from Alexander's perspective. More info
A Murder in Macedon by Anna Apostolou (1997), a murder mystery in which two Jewish sleuths, friends of Alexander's, attempt to find out who killed his father, King Philip of Macedon. More info
Alexander the Great by Nikos Kazantzakis (1982), a novel for teens about a boy who becomes a close friend of Alexander the Great. More info

Nonfiction about Alexander and Aristotle:
The Life of Alexander the Great by Plutarch (probably written in the late first century). More info
Alexander the Great by Robin Lane Fox (1974). More info
Aristotle: A Very Short Introduction by Jonathan Barnes (1983). More info

At the Movies:
Alexander the Great
, the 1956 film starring Richard Burton as Alexander, with Barry Jones in a small role as Aristotle. It's not Richard Burton's finest performance, and the film ignores Alexander's homosexual relationships, emphasizing a romance with Barsine, played by Claire Bloom. But it does stress the conflicts between Aristotle's teachings and Alexander's thirst for glory. And there are some rousing battle scenes.

Online:
Alexander and Aristotle, a translation from the section of Plutarch's Life of Alexander about his education by Aristotle



Back to Novels of Ancient History

Back to Directory of Book Reviews