Godiva
by Nerys Jones
Reviewed by Annis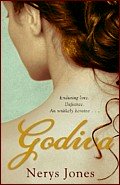 Sex sells, as testified by the enduring legend of Godiva. The sensational image of the beautiful lady riding her horse through the shuttered streets of medieval Coventry, naked but for her long hair, has captured imaginations for centuries, and Peeping Tom, the man who couldn't resist watching, has become part of our everyday vocabulary.
What of the person behind the legend? Nerys Jones has gone back to England, 1045, and recreated a warm and likeable woman as the centre of her own feminist fable.
Godiva is the wife of Lovric, the powerful Earl of Mercia, and famed for her beauty and compassionate piety. She's also stubborn, independent, and by Anglo-Saxon custom a wealthy landholder in her own right. However times have become difficult for Lovric and Godiva. Harvests have failed, their people are starving, and they have attracted the unwelcome attention of King Edward the Confessor.
The King is portrayed as a bitter man, his repressed anger and sexuality channeled into harsh religion. Raised in Normandy, he has little tolerance for the traditional rights of his English subjects. He is cast as the Trickster, taking malicious pleasure in creating discord and watching others struggle to untangle themselves from his snares. Edward enjoys setting his côterie of rapacious Norman priests and aristocrats against his English nobles, and uses Lovric's family as pawns in a game designed to discredit the Earl and diminish his influence. For the sake of her family and people, Godiva is forced into a perverted penance, a humiliating and painful naked bareback horse ride through Coventry that will test her spirit and strength of character to the utmost.
Godiva paints a vivid picture of an Anglo-Saxon noblewoman and her household. The Norman Conquest of 1066 would bring with it Norman customs and laws, leaving women no real place in landownership and politics. Godiva was among the last of her kind, but thanks to a legend, never forgotten. (2008, 343 pages, including historical notes)
More about Godiva at Powell's Books

Other novels set during the reign of Edward the Confessor:
The Cunning of the Dove by Alfred Duggan (1960), about Edward the Confessor. More info
Warriors of the Dragon Gold by Ray Bryant (1987), about the royalty of England from King Canute to William the Conqueror. More info
Gildenford by Valerie Anand (1977), about a peasant who serves Earl Godwin of Wessex, who massacred 600 followers of Edward the Confessor's younger brother in 1036 at Gildenford. More info
Harold the King by Helen Hollick (2000), about Harold Godwineson during the reign of Edward the Confessor and the decades leading up to the Norman Conquest, beginning in 1044. More info

Nonfiction about Lady Godiva and the reign of Edward the Confessor: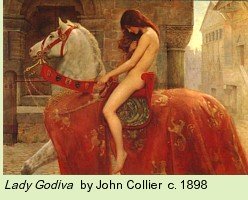 Lady Godiva: A Literary History of the Legend by Daniel Donoghue (2002). More info
The English Nobility Under Edward the Confessor by Peter A. Clarke (1994). More info
King and Saint: The Life of Edward the Confessor by Peter Rex (2008). More info

At the Movies:
Lady Godiva of Coventry, a hilariously bad movie made in 1955, starring Maureen O'Hara as Lady Godiva; full of historical inaccuracies (for example, the archetypically Anglo-Saxon Earl Leofric who detested the Normans somehow becomes a Norman!). More info

Online:
The Historical Godiva by Octavia Randolph



Back to Medieval: Norman Conquest Period

Back to Directory of Book Reviews