Girl in Hyacinth Blue

by Susan Vreeland

Reviewed by Margaret Donsbach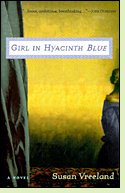 In clean, understated, evocative prose, Girl in Hyacinth Blue traces a fictional Vermeer painting back through time in a series of heart-wrenchingly lovely short stories. The first delves into the conscience of its present-day owner, a man whose love of the painting may entangle him in his father's guilt. The next reveals the terrible events that made his father's acquisition of the work possible. And back through the centuries, to Vermeer himself and the girl he painted.
Revealing almost anything in particular about any of the stories would be spoilerish, since one of the greatest charms of this captivating novel is its sense of mystery. Underpinning each story, including the final one, is an awareness that the people of the past with their very personal joys and sorrows must remain forever veiled to the people of the present, their equally mysterious succssors. Even the details of the painting are revealed gradually over the course of the novel, building it in the reader's imagination the way the painter built it, brushstroke by brushstroke, in his home in seventeenth-century Delft. A recurring image is Vermeer's technique. "Look at the direction of the brush's stroke, those tiny grooves of the brush hairs. They have their lighted and their shaded side. Look elsewhere. You'll find overlapping areas of paint no thicker than silk thread that give a minute difference in shade. That's what makes it a Vermeer."
The theme, though, that runs thrugh all the stories is suggested by a dying man's "cryptic last words," reported by the first story's narrator: "love enough." Throughout history, people long to love and to be loved. And throughout history, the love falls short. Girl in Hyacinth Blue is a tragedy built, layer by layer, in whispers that leave just enough space for hope. (1999, 242 pages)
More about Girl in Hyacinth Blue at Powell's Books
or
Amazon.com
Other novels about Vermeer and Dutch painters of his time:
Girl with a Pearl Earring
by Tracy Chevalier (1999), about a servant girl who works for the Vermeer family.
More info
The Golden Tulip
by Rosalind Laker (1991), about a young woman who becomes Vermeer's apprentice.
More info
Tulip Fever
by Deborah Moggach (1999), about a fictional Dutch portrait painter in the 1730s and the woman whose husband hires him to paint her portrait.
More info
Nonfiction about Vermeer and his art:
Johannes Vermeer
by Arthur K. Wheelock (1995).
More info
Vermeer: A View of Delft
by Anthony Bailey (2001).
More info
Vermeer and His Milieu: A Web of Social History
(1989).
More info
Online:
Complete Vermeer Catalogue: 1653-1675
at the Essential Vermeer website, with interactive images of all the paintings.
Back to Novels of the Seventeenth Century
Back to Directory of Book Reviews