Gifts of War
by Mackenzie Ford
Reviewed by Margaret Donsbach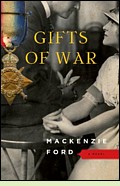 Gifts of War opens with a striking scene. On Christmas Eve, 1914, a British officer in the trenches at the Front watches the snow fall, "dusting the desolate landscape with a fine layer of crystals." Eighty yards away in the German trenches, a Christmas celebration begins. "First one, then another small fir tree was hoisted on to the lip of their trenches, lit by candles."
Hal Montgomery tells his soldiers to hold their fire. Soon he is meeting with Oberleutnant Wilhelm Wetzlar in an informal, unauthorized truce. Wilhelm shows him the photograph of a stunningly beautiful English girl, the fiancée he has been unable to communicate with since the war began. He gives Hal a photograph of himself. "Can you see she gets it?"
After he is injured and sent home to recover, Hal looks for the girl. Smitten, he courts her himself. Amid the disordered, difficult upheavals of wartime, the sweet and vulnerable Sam finds him difficult to resist. But their relationship is built on a deception that haunts Hal. Unable to return to active duty, he accepts a job with military intelligence and finds he has a talent for it. His discoveries track the course of the war, while his work demands that he keep other secrets from the woman he loves.
The storytelling in Gifts of War follows a conventional, straightforward path, so the layers of deception and revelation that drive the plot are easy to follow. At times, the dialogue feels a bit artificial, especially in a long passage early in the novel when Hal shares his life story with Sam – readers can safely skim or skip this section. A cleverly plotted, moving love story, Gifts of War also offers a thoughtful meditation on the corrosive effects of war on civilians far from the battlefield. (2008, 447 pages; titled The Kissing Gates in the U.K.)
More about Gifts of War at Powell's Books or Amazon.com

Other novels about civilians during World War I:
Depths by Henning Mankell (2006) , about a Swedish submarine captain's affair with a woman on an isolated island. More info
The Serpent's Tooth by Michelle Paver (1995), about a woman living with a tragic secret and her search for emotional peace during World War I. More info
Zennor in Darkness by Helen Dunmore (1993), about D.H. Lawrence and his German-born wife, who must cope with their suspicious neighbors in Cornwall during the war years. More info

Nonfiction about the 1914 Christmas Truce:
Silent Night: The Story of the World War I Christmas Truce by Stanley Weintraub (2001). More info
Christmas Truce: The Western Front, December 1914 by Malcolm Brown and Shirley Seaton (1984), More info

At the Movies:
The Christmas Truce, a 2007 History Channel documentary
The Truce, an award-winning student-produced film about the Christmas Truce
Joyeux Noel
, a 2005 French film about the Christmas Truce, written and directed by Christian Carion, starring Diane Furman and Benno Fürmann; an Academy Award nominee for Best Foreign Film.

Online:
The Christmas Truce, 1914 at HistoricalEye.com
A December 27, 1914 letter in The Times from a British soldier who participated in the Christmas Truce



Back to: WWI Europe: The Home Front

Back to: Directory of Book Reviews