Gerald Kolpan Interview
May 2, 2012
HistoricalNovels.info interviews
the author of Magic Words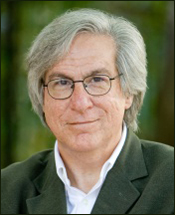 It was great to have Gerald Kolpan visit the blog on May 2, 2012, to talk about his novel Magic Words, about a Jewish frontiersman and his stage magician cousins.

Your historical characters lead such unexpected lives! How did you discover Julius Meyer and the Herrmann brothers?
I found out about Julius while watching a PBS special on the Jews in America. There was about a ten second clip showing a nineteenth century studio photo of a young, curly-haired white man with four Indian chiefs. The voiceover said something like, this is Julius Meyer, a Jewish immigrant from Europe who eventually became the interpreter for many famous Indians. I said, "I got to find out more about this guy. He's my next novel."
While researching Julius, I found out about an incident in which he invited a magician named "Herman" to perform for the Ponca tribe. He did a great show around their fire, they were properly amazed and that night one of the Ponca men tried to kill the magician for his hat! I later found out that this "Herman" was actually Alexander Herrmann, the Great Herrmann, who was the most famous magician in the world at the time, the guy who sold out the Egyptian Theatre in London for one thousand straight nights. Finding him was great because it led to the London and Brooklyn scenes in the book - and of course, it also led to finding my villain, his older brother, Compars, who was The Great Herrmann before Alex. And hey, what author doesn't want a magician in his book, to say nothing of two!

As part of your research, did you try to reproduce one of the Herrmann brothers' magic tricks?
Anybody who knows me also knows I have the manual dexterity of a sloth...and they only have three toes. So, no.

Some characters one might expect to be highly prejudiced are actually quite tolerant of the Jewish characters' practices and faith. What made you decide to portray them in this way?
There is prejudice among the characters, but it's more like the common stereotypes of the day. It's not like anyone's in the Klan or anything. Most of the characters are either like Lady-Jane, the prostitute who's trying to survive, or Prophet John, my clairvoyant Indian Scout who's always after the next drink or woman, or Adelaide, the dancer who's literally starving when we meet her. They're just too busy with their own issues to spend much time on hating someone without a good reason. Other characters, like Thomas Henry Tibbles and Lady Caroline Carstairs are fighters for Indian freedom, so they're a little less likely to be bigoted about the Jews. The rest, like Mrs. McGreevy, Julius' Uncle Eli's landlady, have probably become less prejudiced from exposure to a nice Jewish guy. I mean, that Eli...he's got charm, you know?


---


Review of Magic Words by Gerald Kolpan
See listing for Magic Words at Powell's Books
See listing for Magic Words at Amazon.com
See listing for Magic Words at The Book Depository