Gentlemen of the Road
by Michael Chabon
Reviewed by Annis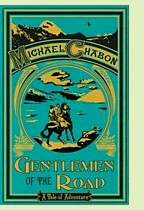 Michael Chabon clearly had great fun writing Gentlemen of the Road and indulging his inner adventurer. Not just any adventurer, either, but a specifically Jewish one: Jews with Swords was his working title for this swashbuckling take on the road-trip novel, set in tenth century Caucasia.
Amram, a huge black Abyssinian (the brawn), and Zelikman, a skinny white Frank (the brains), make a successful if unlikely team, working their way up and down the Silk Road trade route as multi-talented thieves, con-men and soldiers of fortune. They have one thing in common; both are Jews.
One day a usually sure-fire con trick goes awry, leaving the reluctant duo encumbered with the care of Filaq, obnoxious heir to the Bek of the predominantly Jewish kingdom of Khazaria. Anxious to avoid the assassins hired by duplicitous Khazarian usurper, Buljan, they hastily set out for the safety of Azerbaijan. However, Filaq is determined to go home and escapes, leading the two adventurers on a merry dance through the Caucasus which culminates in a daring attempt to retake Khazaria.
In his writing style Chabon pays deliberate homage to the pulp historical adventure/fantasy writers of the 1920s, '30s and '40s; Harold Lamb, Talbot Mundy, Rafael Sabatini, L. Sprague de Camp and Robert E. Howard, themselves inspired by nineteenth century authors of the high adventure genre like H. Rider Haggard. In the U.K. edition, even the book's physical appearance faithfully mirrors that of the originals, including the iconic illustrations.
Although at face value Gentlemen of the Road is a simple entertaining romp, full of break-neck action and laconic wit, some sophisticated use of language has gone into creating its authentically vintage flavor. This phrase, for example, is one of many which caught my fancy: "Long strings of men and women and animals knotted and coiled as the townspeople abandoned their lives." (2007, 204 pages)
More about Gentlemen of the Road from Powell's Books

Some classic historical pulp fiction adventure stories like those that inspired Gentlemen of the Road:
The Grand Cham by Harold Lamb (1922, reprinted 2003), about a man who vows vengeance after he is crippled by a Turkish lord, showcasing medieval settings from Turkey to Venice to Tamerlane's tent
Durandal
by Harold Lamb (1931), about a crusader who vows to avenge his comrades after he is the only survivor of the slaughter that results when their allies betray them to the Saracens.
Treasures of Tartary by Robert E. Howard (2006), a collection of Howard's historical adventure stories originally published in pulp magazines in the 1930s.
The Dragon of the Ishtar Gate by L. Sprague de Camp (1961), about a soldier in Xerxes' elite guard sent on a quest for ingredients for a potion Xerxes' sorcerers say will have the power to convey immortality

A time-slip novel set in tenth century Khazaria:
The Wind of the Khazars by Marek Halter (2006), about a modern writer who becomes curious about the Khazars after a visitor gives him an ancient coin

Nonfiction about the Khazars:
The Jews of Khazaria by Kevin Alan Brook

Online:
Historical Swashbucklers From The Pulps article at Sword & Sorcery
Wikipedia article about the Khazars



Back to Historical Novels: Medieval

Back to Directory of Book Reviews