The Gentleman's Garden
by Catherine Jinks
Reviewed by Annis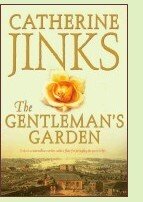 Catherine Jinks' trademark sly humour is muted to delicate irony in The Gentleman's Garden, a novel of nineteenth century Sydney.
It's 1814. In the charming English village of Bideham, Devonshire, Captain Charles Brande is recovering from the death of his father at the home of sympathetic relatives. He is not mourning his improvident parent so much as his sadly disappointed financial expectations. To his neighbour Dorothea, Charles is the epitome of a romantic hero, dashing, moody and excessively handsome. Unable to believe her good fortune when he pursues her, she eagerly accepts his proposal of marriage, not realising that her adoration is a balm essential to his wounded spirit. Charles feels that life owes him more, much more.
Gently-bred Dorothea's initial excitement about accompanying her bridegroom on his regimental tour of duty to the penal colony of New South Wales in Australia soon fades. As homesickness and bewilderment overwhelm her to the point of despair, her self-obsessed husband, himself struggling to cope, is unable to console her.
The turning point is Dorothea's decision to create an English-style cottage garden with the help of her convict servant, Daniel. The garden gives her a sense of purpose and connection between the past and present. As she cultivates it, Dorothea grows in maturity and empathy, seeing beyond the strict confines of the viewpoint considered acceptable for an officer's lady.
In The Gentleman's Garden Jinks evokes the stultifying atmosphere of colonial Society: free settlers, civil administrators, military staff, and their families, whose sense of superiority is reinforced by rigid convention. They express their underlying fear of the convict and emancipist (ex-convict) population as well as the native Aboriginals in a repugnance verging on hatred. Early Sydney's significant personalities and the political conflicts and issues of the day are integral to this absorbing study of a marriage in crisis. (2005, 444 pages)
More info about The Gentleman's Garden from Amazon.com

Other novels about women in early colonial Australia:
Hester Waring's Marriage by Paula Marshall, historical romance set in 1812 Sydney with well-developed characters and an excellent picture of Australia as a young colony; #1 in the Dilhorne Dynasty series. More info
Remember Me by Lesley Pearse, about Mary Broad, one of the first women convicts transported to Australia. More info
The Potato Factory by Bryce Courtenay, about two women transported to Australia as convicts, one the wife and the other the mistress of the same man. More info

Non-fiction about early colonial Australia:
A Commonwealth of Thieves: The Improbable Birth of Australia by Tom Keneally. More info
The Fatal Shore: The Epic of Australia's Founding by Robert Hughes. More info

Online:
Article about women in colonial Australia at Culture.Gov.Au



Back to Historical Novels: Australasia

Back to Directory of Book Reviews