The Gentleman Poet
by Kathryn Johnson
Reviewed by Margaret Donsbach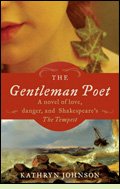 The Gentleman Poet is subtitled "A Novel of Love, Danger, and Shakespeare's The Tempest. One of Shakespeare's late plays, probably written in 1610-11, The Tempest appeared shortly after William Strachey's account of a 1609 shipwreck. The Sea Venture was bringing settlers to the New World colony of Jamestown when a fearsome hurricane struck, after which the battered ship ran aground off Bermuda, the feared "Devil's Islands." Strachey and the other emigrants were stranded until they could build two smaller ships from the wreckage and sail on to Jamestown a year later. The novel, inspired by Strachey's mention of a "cook named Thomas Powell, who married a maidservant of one Mistress Horton, whose name was Elizabeth Persons," imagines what might have happened if Shakespeare himself, in the guise of Strachey, had been aboard the Sea Venture and begun writing The Tempest while stranded on Bermuda.
Unlike The Tempest, The Gentleman Poet includes no supernatural events, but it verges on fantasy as the determined and resourceful maidservant manages to keep her carping mistress in washed, sun-bleached, starched and pleated ruffs while gradually taking over cooking duties for half the stranded group and extending their menu to include such delicacies as spiced seabird breast wrapped in an improvised puff pastry of wild grain and goat butter, fried in sea-turtle oil. Recipes are included, though in a charmingly antique style impracticable for modern kitchens.
The first half of the story centers on Elizabeth's adventures as she explores the island for foodstuffs and discovers her creative potential as a cook. It's more scintillating than the second half, dominated by what seems a stock romance plot featuring predictable but exaggerated crises until a very un-stock twist near the end. Readers looking for a realistic story and historical authenticity will likely be disappointed. Readers looking for a light, often humorous romp featuring an irresistible heroine will probably find The Gentleman Poet a delight.
More about The Gentleman Poet at Powell's Books or Amazon.com
Interview with author Kathryn Johnson

Other historical novels about shipwrecks:
The Raft (titled The God of Spring in the U.S.) by Arabella Edge (2006), about French artist Théodore Géricault and his painting "The Wreck of the Medusa," inspired by a shipwreck off Mauritania in 1816. More info
Shogun by James Clavell (1975), inspired by the true story of an Englishman shipwrecked off Japan in 1600. More info
Boon Island by Kenneth Lewis Roberts (1956), about men struggling to survive the wreck of the Nottingham off the coast of Maine in December 1710. More info

Nonfiction about the wreck of the Sea Venture:
A Brave Vessel: The True Story of the Castaways who Rescued Jamestown and Inspired Shakespeare's The Tempest by Hobson Woodward (2009). More info
The Shipwreck that Saved Jamestown: The Sea Venture Castaways and the Fate of America by Lorri Glover and Daniel Blake Smith (2008). More info
Sea Venture: Shipwreck, Survival and the Salvation of Jamestown by Kieran Doherty (2008). More info

Online:
William Strachey's account of the wreck of the Sea Venture at the Rutgers University website



Back to Novels of the Renaissance

Back to Directory of Book Reviews