G.G. Vandagriff Interview
June 29, 2009
HistoricalNovels.info interviews
the author of The Last Waltz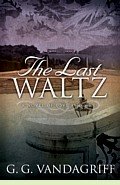 It was a pleasure to interview historical novelist G.G. Vandagriff June 29, 2009. G.G. is the author of The Last Waltz, about a Viennese woman and her search for love, beginning on the eve of the First World War and ending with a dramatic escape during the Nazi takeover of Austria during World War II. She has also written a contemporary mystery series featuring a sleuth who is a genealogist.

Before reading The Last Waltz, I didn't realize
how different the Austrian experience was from the German experience of the two world wars.
Did your research turn up anything that surprised you?
I actually studied the history and politics of Austria while I was living there. My professors were Austrians. I didn't know their story either. It is so full of pathos, I felt it needed to be told. I really got the impression that the Austrians have been having an identity crisis ever since they lost their empire. I came to know that they are very distinct from the Germans. Germany only came together as a nation in the late 19th century. Austria had been an empire for over 500 years. Their national culture is far more cosmopolitan and deeply ingrained. At the time of WWI, Germany was still culturally diverse - a group of nation-states.

Are any of the fictional main characters in your book inspired by real people?
The characters grew in my mind over a period of thirty-three years. To me, they seem very real, however they are totally imaginary. Their identities were inspired by the political factions they represented, but they ceased to be symbolic to me and became real somewhere along the way. For them to be more than superficial, I had to live with them daily for many years. I am sure even the men have something of me in them!

What was it like to turn to a serious historical novel after writing a mystery series?
Actually, the mysteries were a "filler" until the serious novel could be worked out. I needed real life tragedy and personal victories in the face of opposition that I didn't have when I began the novel at age twenty-seven. And I knew it. I also had to learn that an epic like this one had to have more than one point of view. I had to develop my male characters fully. Once I added scenes from their points of view, the novel came alive.


---


Review of The Last Waltz by G.G. Vandagriff
See listing for The Last Waltz at Powell's Books
See listing for The Last Waltz at Amazon.com