The Frozen Thames
by Helen Humphreys
Reviewed by Susan Gillmor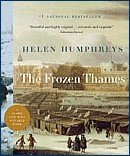 The River Thames in London has frozen solid forty times in the last millennium. Humphreys commemorates each icy episode with a brief vignette in The Frozen Thames, a volume gilded with lyrical prose and adorned with historical art prints. From high to low, rich to poor, the people of London are frozen in time along with their river in each of Humphreys's impressionistic sketches.
Queen Matilda, under siege in 1142, "saw the river freeze" from her castle window, "the moment when the water took hold of itself and wouldn't let go." A man living on London Bridge in 1282 muses, "Ice is stronger than water. Ice is made from water, but it does not seem to remember water." He remembers that during the thaw from the 1269 freeze, sections of the bridge collapsed into the river.
Another thaw after another freeze in 1740 "goes just as badly as the freeze.... It is as though the people of London need reminding that the river is a wild thing and this cannot be forgotten because, if it is, the Thames will simply arch its back and throw anything off that tries to tame it."
If not a true historical novel, The Frozen Thames is a true accounting of the river in its frozen persona from a millennium-long segment of its life. The people on its banks or attending a Frost Fair on the river itself come and go in their allotted moments. We recognize some, many are long forgotten, but each claims our attention for the instant Humphreys shines her poetic spotlight on them.
Sated with crystalline images, yet ravenous for more, I came away curious about each occurrence, wanting to find fictionalized accounts of gravestone engravers in the eighteenth century and the inception of English football in the more distant past. I'd love to read a novel about a Frost Fair in medieval days and an ice feast for the poor served up on the frozen river by Grey Friars monks. (2007, 181 pp.)
More about The Frozen Thames from Powell's Books

Other novels featuring ice and snow:
Orlando by Virginia Woolf (1928), a literary novel about a young man in the Elizabethan age who decides never to grow old and, during a later century, is transformed into a woman; one episode takes place during a winter when the Thames freezes solid. More info
The Iceweaver by Margaret Lawrence (2000), about a wild young woman captured and sold as an indentured servant after burying her mother in a frozen lake in post-Revolutionary New York State. More info
The Ice Shirt by William Vollmann (1990), an avant-garde novel about Viking exploration in Iceland, Greenland and North America, and their conflicts with the native peoples. More info

Historical sources and nonfiction about the River Thames:
Old Ballads Illustrating The Great Frost Of 1683-84 And The Fair On The River Thames edited by Edward Francis Rimbault (1844). More info
River Legends, Or Father Thames and Father Rhine edited by Edward Hugessen and illustrated by Gustave Dore (1875). More info
Thames: The Biography by Peter Ackroyd (2008). More info

At the Movies:
Sally Potter's 1993 film "Orlando" of Virginia Woolf's novel of the same title, starring Tilda Swinton, and featuring a stunning scene of the frozen Thames. More info
David Lean's 1965 film "Doctor Zhivago" of Boris Pasternak's novel of the same title, starring Omar Sharif, Julie Christie and Geraldine Chaplin, and featuring a breathtaking scene of the arrival at the iced-in dacha Varykino, as well as many other grippingly icy scenarios. More info

Online:
The History of the River Thames



Back to Historical Novels: Medieval Angevins

Back to Directory of Book Reviews