The Fourteenth of October
by Bryher
Reviewed by Susan Gillmor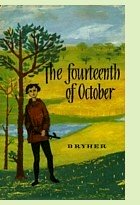 In The Fourteenth of October, Bryher illuminates with a fine brush what English-speaking schoolchildren vaguely understand of the broad stroke of history that was 1066. Through the eyes of Wulf, a young Saxon lad from the east coast of Yorkshire, we witness the death throes of Britain's old folkways as the Norman invasion nears the shores of England.
As a boy of twelve, Wulf is delivered as a hostage to Danes plundering the eastern shore. He is sold into slavery across the Channel to the knight Rollo in the Breton countryside, where he learns to hate Normans and yearns to escape to his native island. Wulf's gift of 'the sight' enables him to foresee that the Normans will be the doom of all he loves most. An opportunity to escape Rollo's clutches brings Wulf to a village on the shore of Cornwall. It will be five years before he leads his Cornish comrades to the town of Hastings on the fourteenth of October in the year 1066, but already Wulf senses, "It was as if the doom and the battle were over, and we were lingering between two worlds."
The novel takes us to the battlefield: "The din was incredible. It was as if shouting had turned into thunder that had the clang of a smith's hammer, the horrible yell of wolves, and, . . . terrifyingly evil, the hiss of arrows." And then it is over. England belongs to William of Normandy.
Bryher's narrative voice is beautifully poetic. She endows her protagonist with the combined traits of the ancient Saxon and Celtic ways. The Fourteenth of October has sadly fallen into obscurity. It deserves a place among the classics. (1952, 223 pages)
More about The Fourteenth of October from Amazon.com

Other novels about the Battle of Hastings:
The Firedrake by Cecelia Holland (1966). More info
The Wind from Hastings by Morgan Llywelyn (1978). More info
The Last English King by Julian Rathbone (1997). More info

Nonfiction about the Battle of Hastings:
The Battle of Hastings: The Fall of Anglo-Saxon England by Harriet Harvey Wood (2008). More info
The Battle of Hastings: 1066 by M.K. Lawson (2002). More info from Powell's Books and Review by a reference librarian at the University of Toronto
The Battle of Hastings by Jim Bradbury (1998). More info
The Battle of Hastings: Sources and Interpretations by Stephen Morillo (1996). More info

Online:
The story behind the Battle of Hastings at the BBC History Website

William of Malmesbury's eyewitness account of the Battle of Hastings at Medieval Source Book