The Flying Circus

by Susan Crandall

Reviewed by Margaret Tomlinson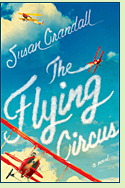 Set in 1923, The Flying Circus is about three young people - and a cute dog - who come together by chance and become "barnstormers," stunt fliers who scrape a living together by demonstrating small-plane acrobatics. Henry, the central character, is an eighteen-year-old orphan. He's on the run after a traumatic event on the farm where he lived after losing the rest of his family died, starting with his brother, who fought and died for the U.S. in World War I. Despite that, Henry and his family were persecuted for their German background.
Cora, also eighteen, is fleeing her once-wealthy family to avoid being married against her will. Gil, in his late twenties the eldest of the group, is haunted by his wartime experiences as a pilot.
Starting out as a madcap adventure, the novel shifts, not quite smoothly, into a somber exploration of the traumas experienced by its characters during the war years and of  how the past complicates their post-war lives. The specific nature of their wartime experiences is revealed gradually over the course of the novel; some readers may grow impatient with the slow pace of these revelations, which are so thoroughly foreshadowed that when they finally come, they're not very surprising. Readers sensitive to overblown metaphors may find some purple passages a bit hard to take ("his insides were full of slithering black snakes of dread").
The Flying Circus is an easy read, despite its serious subject. The few potentially gory scenes are quickly skimmed over so readers understand what has happened without having their noses rubbed in it. Not too many novels have been written about stunt pilots in the 1920s, so readers looking for fresh subject matter may find this enjoyable. (2015, 357 pages, including an Acknowledgements section with a note separating fact from fiction)
More about The Flying Circus at Powell's Books
or
Amazon.com
Other novels and memoirs about pilots:
West With the Night
by Beryl Markham (1942), a memoir by the woman who was the first person to fly solo east to west across the Atlantic.
More info


Night Flight by Antoine de Saint-Exupéry (1931), about a pilot in Argentina who risks his life to make a scheduled mail delivery flight during a dangerous storm.
More info


The Last Flight of the Little Prince by Jean-Pierre de Villers (2000), a dual-language French/English novella which imagines Saint-Exupéry's final flight.
More info
Nonfiction about stunt pilots:
Barnstorming the Prairies: How Aerial Vision Shaped the Midwest
by Jason Weems (2015).
More info


Sisters of Heaven: China's Barnstorming Aviatrixes: Modernity, Feminism and Popular Imagination in Asia and the West by Patti Gully (2007), about three women in 1930s China who became pilots.
More info


Motion Picture Stunt Pilots and Hollywood's Classic Aviation Movies by H. Hugh Wynne (1987).
More info
Online:
Barnstorming: Crazy 1920s Airplane Stunts
, historic video clips of female daredevils in the 1920s, at YouTube.
Back to Directory of Book Reviews
Back to 20th Century America Between the Wars