Five Quarters of the Orange
by Joanne Harris
Reviewed by Sue Gillmor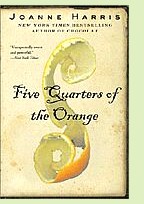 In Five Quarters of the Orange, a literary historical novel that links the German occupation of France with present day events, Joanne Harris, author of the award-winning Chocolat, offers up a sensory feast.
In 1942 Framboise was the nine-year old daughter of war widow Mirabelle Dartigen in the small town of Les Laveuses on the banks of the Loire River. Nearly fifty years later she returns incognito to the farmhouse of her youth. Though drawn inexorably to her native roots, she is a pariah who dares not reveal her true identity. Through the long-unopened pages of her mother's scrapbook of memories, poetry, and recipes, Framboise begins to face an old family debt, the Dartigens' role in the town's tragic history, and stamp it paid with the currency of truth.
The depths of the storyline are often as dark and musty as the Dartigens' abandoned root cellar. At times, the finely wrought pastiche of past and present unfolds almost too slowly, but readers who skip or skim over details will miss the beauty of prose evoking the fecund smells of the Loire River, the shades of yellow and red and pale green of the countryside, and the sensual tastes of spices and rich sauces from a French country kitchen.
Framboise's childhood pursuit of Old Mother, a legendary pike which eluded local fishermen for years, becomes metaphorically entwined with the adult Framboise's search for her own mother's darkest secrets. The tale of the long ago wartime events is as complex, bittersweet, and rich as so many mother/daughter bonds are. Secrets are uncovered as reluctantly as youth surrenders to maturity. Sometimes surprising, oftentimes shocking, the unfoldings of Five Quarters of the Orange are also sometimes as sweet as flaky French pastry and intoxicating as a perfectly aged plum liqueur. (2001, 307 pp. in paperback edition)
More about Five Quarters of the Orange from Powell's Books

Other novels about France during World War II:
Charlotte Gray by Sebastian Faulks (1998) More info
The Collaborators by Reginald Hill (1989) More info
Wild Lavender by Belinda Alexandra (2005) More info

Nonfiction about the Loire Valley:
Loire Valley Sketchbook by Jean-Paul Pigeat and Fabrice Moireau (2003), sketches of the scenery in the Loire Valley. More info
Vie de France: Sharing Food, Friendship and a Kitchen in the Loire Valley by James Haller (2003), a modern chef's memoir of his stay in the Loire Valley, with recipes. More info
Wine and War: The French, the Nazis and the Battle for France's Greatest Treasure by Donald and Petie Kladstrup (2001), about the French effort to hide precious vintages of wine from German occupiers. More info



Back to Novels of World War II

Back to Directory of Book Reviews