Fingersmith
by Sarah Waters
Reviewed by Margaret Donsbach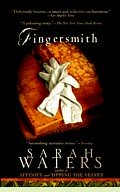 Set in the early 1860s, Fingersmith is an atmospheric Gothic novel about two young women. Susan, trained as a "fingersmith" - a pickpocket - by an indulgent surrogate mother, has been raised in a household in the London slums which traffics in stolen goods and orphaned infants. Maud, an heiress, lives in the isolated, run-down country manor of a coldly eccentric uncle who requires her to assist him in the obsessive cataloging of his library.
They meet when a charming thief lures Susan into a scheme to persuade Maud to marry him so he can abscond with her inheritance. Posing as a lady's maid, a position for which she is utterly unqualified, Susan arrives at the desolate manor and soon begins to suffer qualms over cheating the vulnerable, friendless Maud, who suffers from nightmares. Susan's routine soon includes sleeping in Maud's bed.
While the plot moves slowly in the early part of Fingersmith, there are plenty of oddities to keep readers wondering: What are the books the old uncle guards so fiercely? Why does Maud insist on wearing gloves at all hours? Why, when she so obviously yearns to be freed from her uncle's suffocating house, is she so reluctant to elope with Mr. Rivers?
Women in nineteenth-century England had almost no legal rights independent of their husbands or male relatives. A married woman's income, whether inherited or earned by her own labor, legally belonged to her husband. Except under rare circumstances, a woman could not divorce her husband. If she fled an unhappy marriage she could be forced back into the custody of a husband who had the right to beat or imprison her. Sex was not spoken of in polite society, but the desires of men fueled a thriving subterranean economy. As the plot of Fingersmith gathers steam from these unhappy historical realities, it becomes a relentless page-turner. (2002, 583 pages including an Acknowledgements that lists sources for the history behind the story)
Fingersmith is on my "Best Historical Novels I Read in 2009" list.
More about Fingersmith at Powell's Books or Amazon.com

Other novels about nineteenth century London slum-dwellers:
The Crimson Petal and the White by Michel Faber (2002), about a London prostitute. More info
Jack Maggs by Peter Carey (1997), about a thief recently returned to London from an Australian prison colony. More info
Oliver Twist by Charles Dickens (1838), a classic rather than a historical novel, set in Dickens' own time. More info

Nonfiction about the London slums in the nineteenth century:
Artful Dodgers: Youth and Crime in Early Nineteenth Century London by Heather Shore (1999). More info
East End 1888: Life in a London Borough Among the Laboring Poor by William J. Fishman (1989). More info
London's Underworld: Three Centuries of Vice and Crime by Fergus Linnane (2003). More info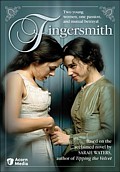 At the Movies:
Fingersmith
, a 2005 Acorn Media production directed by Aisling Walsh and starring Sally Hawkins as Susan and Elaine Cassidy as Maud; originally broadcast in three parts on BBC TV

Online:
"Women's Status in Mid 19th-Century England" at the Hastings History website



Back to Historical Novels: 19th Century Europe

Back to Directory of Book Reviews