The Favored Queen
by Carolly Erickson
Reviewed by Margaret Donsbach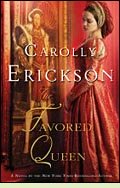 The Favored Queen is about Henry VIII's third wife, Jane Seymour, who bore the king's only legitimate son. Before wedding Henry, Jane served as maid-of-honor for each of his previous wives, so despite her modest personality, her story offers plenty of fodder for sensational scenes revolving around the pious but strong-willed Catherine of Aragon and the ambitious Anne Boleyn. If this means the story often seems to focus much more on Henry's first and second wives than on his third, that may not be a a bad thing, unless a reader is looking for an in-depth exploration of a quiet, deferential woman's psyche.
Erickson calls her novel "a historical entertainment," cautioning readers not to take every incident as factual history. Thus, some readers may be startled to find Jane impulsively losing her virginity during her days as a maid of honor. On the other hand, much of the story has its basis in documented history. An epidemic of sweating sickness did ravage London in 1528, and Anne Boleyn did contract the disease. Elizabeth Barton, the Nun of Kent, who issued frenzied prophecies opposing Henry's marriage to Anne, was a real person.
Perhaps the most sympathetic character is the beleaguered Catherine of Aragon. Anne is short-tempered, self-centered and promiscuous. Jane, by contrast, is admirably loyal even to those who have lost favor with the king or her own family. Still, she is not above taunting someone she doesn't like. "We had heard King Henry refer to Anne as 'my little puffball,' and now we all called her that, mockingly, along with other names: gypsy, vixen, she-wolf, hellhag. We snickered at her moles." If Jane sometimes seems the least memorable personality among Henry's six wives, The Favored Queen nevertheless makes her story into a zippy drama often verging on melodrama. (2011; 295 pages)
More about The Favored Queen at Powell's Books or Amazon.com

Other novels about Jane Seymour and Anne Boleyn:
Plain Jane by Laurien Gardner (2006), about Jane Seymour. More info
The Concubine by Norah Lofts (1963), a sympathetic portrayal of Anne Boleyn. See review or more info at Powell's Books.
The Other Boleyn Girl by Philippa Gregory (2001), a novel centering on Anne Boleyn's elder sister Mary and portraying Anne as an amoral schemer. More info

Nonfiction about Jane Seymour:
Jane Seymour: Henry VIII's True Love by Elizabeth Norton (2009). More info
Jane, the Quene, Third Consort of King Henry VIII by Pamela M. Gross (1999). More info
Ordeal by Ambition: An English Family in the Shadow of the Tudors by William Seymour (1972), about the Seymour family. More info

Online:
Jane Seymour at EnglishHistory.net



Back to Novels of the Renaissance

Back to Directory of Book Reviews