The Far Pavilions

by M.M. Kaye

Reviewed by Margaret Donsbach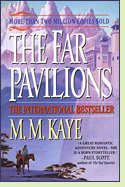 A sweeping story of India during the Raj, The Far Pavilions was an immediate bestseller when published in 1978. Fans remain captivated by its portrayals of a boy born to English parents "in a camp near the crest of a pass in the Himalayas" and his friends, enemies, mistrustful allies and well-meaning antagonists.
Ashton Pelham-Martyn's parents die young. He is raised primarily by a Hindu hill-woman who dies, too, a few years later while the two are fleeing from one deadly peril while another one, the 1857 Sepoy Rebellion, drenches the land around them in blood. By a stroke of fortune, good or bad, his English identity is at last discovered, and he is whisked away to aristocratic relations in England who see to it that he can never again think of himself as wholly Indian. Nor will he ever be accepted as truly English. On his return to India as a new Army recruit looking forward to "soldiering among the wild hills of the North-West Frontier," 122 pages of the novel have slipped past, but it's only just beginning. Yet to come are a dangerous trek escorting a native bridal party across India, a forbidden love affair, and a harrowing effort to warn the British authorities against meddling in Afghanistan, a land Ash understands better than his "superiors" do. The last few chapters find him in Kabul in 1879 during the Second Anglo-Afghan War and feature a heroic last stand by an undermanned British garrison.
Herself born in India of English parentage, M.M. Kaye, like her hero, considered herself Indian until she was sent to boarding school in England at age ten. She appreciated the complexities of both the British perspective and the Indian, the latter fragmented into the many viewpoints of India's varied religions, castes and nationalities. The Far Pavilions is an old-fashioned tale, sprawling and filled with discursive asides offering political, psychological and sociological background, and with Kaye's impassioned, well-informed opinions about the land of her birth. (1978, 955 pages)
More about The Far Pavilions at Powell's Books
,
Amazon.com
or
The Book Depository
Other novels set in India during the Raj:
Kim
by Rudyard Kipling (1901), about an orphaned Indian street boy, the son of an Irish soldier, who becomes a spy for the British during the "Great Game" period when Britain and Russia were competing for ascendency in Afghanistan; considered a children's classic, this is not necessarily for children only.
More info
The Lotus and the Wind
by John Masters (1953), a murder mystery about a British officer who becomes a spy during the Second Anglo-Afghan War; #2 in a trilogy following
Nightrunners of Bengal
.
More info
A Singular Hostage
by Thalassa Ali (2002), about an Englishwoman who risks everything to rescue an Indian baby and becomes involved with his family of Muslim mystics; #1 in the Paradise trilogy.
More info
Nonfiction about the Second Anglo-Afghan War:
Britain in Afghanistan: The 2nd Afghan War, 1878-80
by Archibald Forbes (2007).
More info
The Road to Kabul: The Second Afghan War, 1878-1881
by Brian Robson (1986).
More info
Afghan Wars and the North-West Frontier, 1839-1947
by Michael Barthorp (2002).
More info
At the Movies:
The Far Pavilions
, the 1984 TV mini-series starring Ben Cross as Ash
Online:
www.mmkaye.com
, a website devoted to the author of
The Far Pavilions
Obituary of M.M. Kaye
at
The Guardian
Back to Historical Novels of India
Back to Directory of Book Reviews