A Famine of Horses
by P.F. Chisholm (a pen name of Patricia Finney)
Reviewed by Annis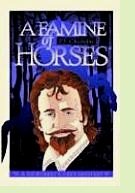 There are several mysteries to be solved in A Famine of Horses, a rollicking adventure based on real events. The first in a series, it's set in the Anglo-Scottish borderlands of the sixteenth century, a lawless region where only the Law of the Marches applies: Might is Right. An idiosyncratic code of honour is in practice, however, and care is taken by all not to upset the delicate balance of power between the authorities and the "surnames" (powerful clans) on both sides of the border.
In 1592 Sir Robert Carey, courtier and favourite of Queen Elizabeth I, throws a spanner into the works by taking the position of Deputy Warden of the Marches, largely to escape pressing creditors, but partly because a devil-may-care approach to life means he can't resist a challenge. When he and his disreputable servant Barnabus ride into Carlisle, the locals are first outraged then smug about his appointment; after all, it should be easy to put one over on a pampered southern nobleman. However, Sir Robert proves as devious an opponent as the best border scoundrel, and his encounters and battles with the wily collection of rogues and reivers he meets are a delight.
In A Famine of Horses, historical events and period detail are seamlessly meshed into a funny, touching tale full of engaging characters, intrigue and action, written in the smooth, seemingly artless style which is the hallmark of a really good author. 1994, reprinted 2000, 400 pages.
More info about A Famine of Horses from Powell's Books

Other novels in the series:
#2: A Season of Knives. More info
#3: A Surfeit of Guns. More info
#4: A Plague of Angels. More info

Other novels set on the Anglo-Scottish border in the sixteenth century:
Candlemass Road by George MacDonald Fraser, a novella that is dark, violent, full of action and treachery, and altogether memorable. More info
The Reavers by George MacDonald Fraser, the author's reworking of Candlemass Road into a humorous novel. More info

Nonfiction about the sixteenth century border reivers:
Steel Bonnets: The Story of the Anglo-Scottish Reivers by George MacDonald Fraser. More info
The Reivers: The Story of the Border Reivers by Alistair Moffatt. More info
The Stirring World of Robert Carey: Robert Carey's Memoirs, 1577-1625, Sir Robert's own account of his experiences. More info

Online:
Wikipedia entry on Sir Robert Carey
www.BorderReivers.net entry on Sir Robert Carey.



Back to Novels of the Renaissance

Back to Directory of Book Reviews