Ex-Libris
by Ross King
Reviewed by Margaret Donsbach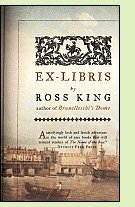 Ex-Libris is an atmospheric novel about books and seafaring, set partly in 1660 England immediately following the Restoration of Charles II, and partly in 1620 as the Battle of White Mountain brings to an end the brief Bohemian reign of the "Winter King," Frederick V, two years into the devastating Thirty Years' War.
In 1660, an eccentric and bedraggled aristocrat lures bookseller Isaac Inchbold into a search for a lost book by inviting him into the library of her manor house, left in a sad state by Cromwell's soldiers. "I picked one of the books at random from its collapsing rank and opened the battered cover. The engraved title-page was barely legible. I turned another crackling page. No better. The rag-paper had cockled so badly because of water damage that, viewed side-on, the pages resembled the gills on the underside of a mushroom." Others remain relatively unscathed, "some gold-tooled or embroidered, others decorated with jewels and precious metals." Browsing through the shelves, Inchbold finds everything from "the five-volume second edition of Marsilio Ficino's Latin translation of Plato" to occult works by the likes of Roger Bacon and Cornelius Agrippa.
Meanwhile, forty years earlier in Prague, Emilia, a court librarian's mistress, rushes frantically to and from the Královsky Palace amid defeated Bohemian soldiers who "were ill-fed and, with their grubby buff-coats and dented breastplates, looked more like tinkers than soldiers." The library has been denuded of books, which Emilia and her lover will soon accompany on a mysterious, ill-fated voyage, dogged by equally mysterious pursuers.
The network of historical facts supporting the puzzle plot sometimes threatens to overwhelm it as Inchbold follows clues into London's most disreputable alleys and into chapels transformed into archives by overwhelmed royal functionaries trying to reassemble the records of landholdings despoiled by Cromwell's forces. Exceptionally sharp-witted readers may be able to follow the complex twists and turns of the plot, but even those who don't will find the conclusion of Ex-Libris impressively dramatic. (1998, 392 pages)
More about Ex-Libris at Powell's Books

Other novels about old and/or dangerous books:
The Book of Unholy Mischief by Elle Newmark (2008), about a fifteenth century quest for an ancient book of secrets. More info
The Lambs of London by Peter Ackroyd (2004), about the 18th century essayist Charles Lamb, his sister Mary, and a young bookseller who claims to have discovered a book once owned by Shakespeare. More info
The Book of Air and Shadows by Michael Gruber (2007), a thriller about a contemporary bookstore employee who discovers a seventeenth century letter alluding to an undiscovered work by William Shakespeare. More info
The Bookseller's Daughter by Pam Rosenthal (2004), about a love affair on the eve of the French Revolution between a scullery maid who used to work in her father's bookshop and an aristocratic book smuggler who used to be her father's customer. More info

Nonfiction about historical libraries:
Library: An Unquiet History by Matthew Battles (2003). More info
Libraries in the Ancient World by Lionel Casson (2001). More info
A History of Reading by Alberto Manguel (1996). More info

Online:

Index Librorum Prohibitorum a facsimile of the 1559 Index of Prohibited Books from the Roman Office of the Inquisition.



Back to Historical Novels: 17th Century

Back to Directory of Book Reviews