Evergreen Falls

by Kimberley Freeman

Reviewed by Margaret Tomlinson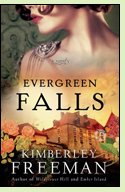 Evergreen Falls is about two women almost a century apart who work at a resort hotel in Australia's Blue Mountains. After the death of her beloved older brother, Lauren in the present-day story escapes her over-protective mother by taking a job as waitress in a café on the site of the decaying Evergreen Spa Hotel, now in the early stages of a major renovation. A photograph taken nearby shows her brother before his illness, radiantly happy, along with two other young people, strangers to her. While trying to solve both this mystery from her family's recent past and the much older mystery of the love letters she finds in a dusty wing of the old hotel, Lauren is surprised to discover that an architect working on the renovation is as attracted to her as she is to him.
Most of the story is devoted to Violet, the young woman who in 1926 comes to work at the glamorous hotel in its prime, and to the people she gets to know there. It's an era when staff - men and women of a lower social order - are forbidden to speak familiarly to the wealthy guests. The guests, however, cannot be forbidden - not, at least, by the hotel management - from speaking familiarly to the staff. So what can Violet do when the charming and magnetically attractive Sam Honeychurch-Black tells her he has fallen in love with her? Especially when she is just as smitten with him?
Evergreen Falls offers a more complex and interesting story than is typical of the romance fiction it resembles in style and tone. Sam, who is addicted to opium, makes an unusual but sympathetic love interest. Freeman's prose rolls comfortably along, her central characters are sweet and easy to identify with, and the story holds enough mystery and suspense to keep a reader steadily turning pages to see what happens next. (2015, 392 pages)
More about Evergreen Falls at Powell's Books
or
Amazon.com
Other novels set in 1920s Australia:
Silver Wattle
by Belinda Alexandra (2007), about two sisters who flee Prague for Australia in the 1920s and work in the Australian film industry.
More info
Bittersweet
by Colleen McCullough (2014), about two sets of twin sisters, close friends, who leave their home in New South Wales and train to become nurses in the 1920s.
More info
Cocaine Blues
by Kerry Greenwood (1989; also titled
Death by Misadventure
), a humorous murder mystery featuring a London society woman who goes to Australia and becomes a lady detective at the end of the 1920s; #1 in the Phryne Fisher mystery series.
More info
Nonfiction about historic hotels:
The Ahwahnee: Yosemite's Grand Hotel
by Keith S. Walklet (2004), about the resort hotel built in California's Yosemite National Park in 1927.
More info
Timberline Lodge: The History, Art and Craft of an American Icon
by Sarah Baker Munro (2009), about a resort hotel built in the 1930s on the slopes of Oregon's Mount Hood.
More info
Resort Hotels of the Adirondacks: The Architecture of a Summer Paradise, 1850-1950
by Bryant F. Tolles, Jr. (2003), about the historic resorts in New York's Adirondack Mountains.
More info
Online:
Grand Plan of (Hydro) Majestic Proportions
, a 2012 article about restoration work at the historic Hydro Majestic Hotel in Australia's Blue Mountains, one of the inspirations for the hotel in
Evergreen Falls
.
Back to Historical Novels of Australasia
Back to Directory of Book Reviews