Erica Eisdorfer Interview
August 7, 2009
HistoricalNovels.info interviews
the author of The Wet Nurse's Tale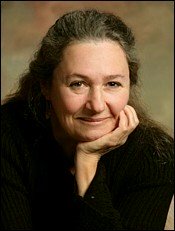 Erica Eisdorfer, author of The Wet Nurse's Tale, visited the blog on August 7, 2009, to talk about her delightful novel, The Wet Nurse's Tale. It's about a young woman of wit and pluck, if no beauty, who follows her mother's profession of wet nurse after becoming pregnant by her employer's son, and the harrowing trials she must cope with.

The heroines of so many novels are beautiful. What gave you the idea to write about a woman who, in her own words, looks like "one hundred wasps had stung me and lumped me up"?
Right from the start I knew Susan Rose wasn't beautiful. I guess I'm just tired of the fair-faced English rose type. Damask complexion, hair like silk, bah humbug. So many people aren't beautiful, after all; and yet when you get to know them a little and they make you laugh or they have some amazing life story, you forget about their lumps and their hard angles and you sit up when they enter a room.
Here's what I learned about the lives of the Victorian underclass, from which so many servants came: as children, they were lucky if they had more than a packed-earth floor; they ate the same thing every day of their lives; they were given a half-day (per month) from their duties. It's hard to maintain good looks in such circumstances, it seems to me. I wanted a real girl, a smart girl, a sassy one - but not a beauty. I wanted her to be less visible than a pretty girl because I wanted her to scheme in private, while scrubbing those floors and nursing those mites.

The conflicts between Susan's love for her own baby and the economic necessity that drives her to nurse other women's babies are heartbreaking. In your research, did you come across real-life examples of women with similar conflicts?
The plight of the wet nurse's baby was often a pitiful one. Many of them died for want of their mothers who were off nursing richer people's children. Some wet nurses gave their own babies over to be wet nursed by others when they themselves went to work - this reminds me of how, when my baby was tiny, I had to go back to work to keep my job but was making just enough money to cover the cost of day care. (This is doubtless a common situation.)
You can imagine the conflict in a woman's breast when she realizes that in order to feed her older children, she has to go to wet nurse and leave the littlest one. Not all employers were indifferent to this inequity. After the death of the child of their wet nurse, one eighteenth-century gentleman wrote, "It is a melancholy reflection that our William was sustained at the expense of your child."


---


Review of The Wet Nurse's Tale by Erica Eisdorfer
See listing for The Wet Nurse's Tale at Powell's Books
See listing for The Wet Nurse's Tale at Amazon.com