Enemies at Home

by Lindsey Davis

Reviewed by Margaret Tomlinson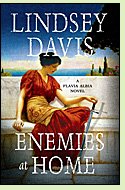 In Enemies at Home, a Roman woman investigates a case of murder during the reign of Domitian. It's an unlikely scenario - the women of ancient Rome did not typically take up professions, especially not professions likely to bring them into contact with the criminal classes. But readers who have followed Davis's Marcus Didius Falco mystery series will find it natural for Falco's adopted daughter Flavia Albia, a spirited young widow born in Britain, to follow in his footsteps. In #24 of the Falco series, Nemesis, Flavia was sixteen and accompanied Falco on a trip south of Rome that turned into a murder investigation. This is the second mystery (after The Ides of April) featuring the grown Flavia Albia's own investigations. She is thirty now, and time has not subdued her.
Flavia narrates her story with witty, self-deprecating, often slangy flair, opening with the lament that she has broken a host of sensible rules to accept her latest case. "Will I never learn?" The case involves a middle-aged couple murdered in their beds shortly after their wedding. A group of their slaves, realizing they will be prime suspects whether guilty or innocent, has claimed sanctuary in the Temple of Ceres, causing difficulties for the Temple authorities. The magistrate charged with solving the problem has worked with Flavia before and asks her to investigate.
Slaves in ancient Rome led difficult lives and had few protections. Enemies at Home romanticizes neither the slaves nor the society that enslaved them. Roman slaves might be smart or stupid, lazy or industrious, resentful or accepting of their lot. They might be loyal to their masters, loyal to their fellow slaves or loyal to nothing and no one. Along with a genuinely baffling plot and a collection of vividly drawn characters, this novel offers an insightful, fascinatingly complex portrayal of the slave-owning society of ancient Rome. (2014, 342 pages)
More about Enemies at Home at Powell's Books
or
Amazon.com
Other mysteries set in ancient Rome:
Nemesis
by Lindsey Davis (2010), #20 in the Marcus Didius Falco mystery series; Flavia Alba appears as a sixteen-year-old.
More info
The Ides of April
by Lindsey Davis (2013), the first Flavia Alba mystery.
More info
Arms of Nemesis
by Steven Saylor (1992), about a Roman citizen who investigates a case of murder on the estate of the richest man in Rome, as the Spartacan slave revolt stirs tension between Roman slaves and their masters; #2 in the Roma Sub Rosa mystery series.
More info
Nonfiction (and one fictional "guidebook") about slavery in ancient Rome:
Slaves and Masters in the Roman Empire: A Study in Social Control
by K.R. Bradley (1984).
More info
Slavery in the Roman World
by Sandra R. Joshel (2010).
More info
The Roman Guide to Slave Management: A Treatise by Nobleman Marcus Sidonius Falx
by Jerry Toner (2014), a fictional treatise on buying and managing slaves in ancient Rome, written by a Cambridge University classics scholar.
More info
Online:
Seneca, Letter #47 of the "Moral Letters to Lucilius"
, an English translation of a letter by the Roman philosopher Seneca about the treatment of slaves
Back to Novels of Ancient History
Back to Directory of Book Reviews