Elizabeth, Captive Princess
by Margaret Irwin
Reviewed by Margaret Donsbach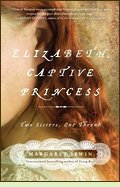 Elizabeth, Captive Princess is the second in Irwin's masterful trilogy about Elizabeth I in the years before she became England's queen. It begins as the nineteen-year-old princess receives news that her brother, Edward VI, is seriously ill. She suspects, correctly, that his death is being concealed in order to lure her to court where she can be pressured to give up her claim on the throne. Thus begins her fight to stay alive and in the succession through the terrifying reigns of scholarly Jane Grey and the embittered, inexperienced, but occasionally valiant Mary Tudor.
Elizabeth is a paradox, a vivacious young woman whose survival through desperate peril has made her wiser and warier than her seniors. Clever and witty, she is a "wild creature" whose smile is like "that of a pagan goddess." Exasperated, Mary accuses her of coquetry: "She flirts with every man she meets - and with policy - with religion - with danger, with life and death itself. In that, as in all else, she is the daughter of her mother, who laughed even on the scaffold."
Irwin's keen, briskly irreverent psychological insight brings Elizabeth flashing off the page with such life, this novel might have been written yesterday rather than in 1948. Reluctant Jane Grey and fiercely determined Mary Tudor, so different from both Elizabeth and each other, are likewise drawn with such vivid three-dimensionality that readers will feel as though they have met these women personally. And though Irwin brings the reader right inside her characters to experience their terror and delight as events unfold so unexpectedly for them, she also uses the reader's knowledge of history to darkly humorous, ironic effect; for example, as at the dawn of Mary's reign her rejoicing subjects call her "Merciful Mary."
Elizabeth, Captive Princess is a fine example of how solid historical research and a writer's imagination can come together to create a definitive, memorable portrait of a particular time and the people who made it. (1948, new Sourcebooks edition 2010; 248 pages)
More about Elizabeth, Captive Princess at Powell's Books or Amazon.com

Other novels in Irwin's trilogy about Princess Elizabeth:
Young Bess (1944), about Elizabeth from the death of her father, Henry VIII, to the end of her brother's reign; #1 in the trilogy. Review or More info at Powell's Books
Elizabeth and the Prince of Spain (1953), about Elizabeth during the reign of her sister, Mary Tudor, who has married Prince Philip of Spain; #3 in the trilogy. More info

Nonfiction about Elizabeth and her half-sister, Mary Tudor:
The Children of Henry VIII by Alison Weir (1996). More info
Mary Tudor: Princess, Bastard, Queen by Anna Whitelock (2010). More info
Elizabeth: The Struggle for the Throne by David Starkey (2000). More info

At the Movies:
Elizabeth R
, the Emmy-Award-winning 1972 television series of six plays covering crucial periods in the life of Elizabeth I, starring Glenda Jackson. Highly recommended.



Back to Novels of the Renaissance

Back to Directory of Book Reviews