An Echo in the Bone
by Diana Gabaldon
Reviewed by Susan Gillmor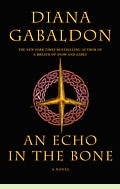 An Echo in the Bone should be well worth the four-year wait for fans of Diana Gabaldon's Outlander series. This seventh installment, featuring eighteenth-century Highlander warrior-farmer-printer Jamie Fraser and his time-traveling twentieth-century wife Claire immerses us in the intrigue, confusion, and complexity of the American War of Independence. From Fort Ticonderoga in 1777 to the Scottish Highland farm of Lallybroch in 1778 and 1980, this new volume spans oceans and centuries as it unfolds the continuing adventures of the Frasers.
Claire's first-person voice scintillates with dry wit as it conveys stark historical realities: "As transatlantic voyages went . . . the trip to America was quite dull. We did have a slight brush with an English man-of-war, did run into . . . a major storm but luckily didn't sink, and while the food was execrable, I was much too distracted to do more than knock weevils out of the biscuits before eating them." Her skills as a surgeon are increasingly fundamental to the plot, most useful at the 1778 battlefield at Saratoga, as well as in the homes of nobility and merchants in Colonial Philadelphia.
In addition to the cast of fictional characters, including Lord John Grey and his stepson William (now a British officer stationed in the Colonies), we catch cameo glimpses of Benjamin Franklin and General John Burgoyne, and enjoy several encounters with Benedict Arnold as an American general. New and intriguing characters appear, including Daniel Hunter (a Quaker doctor) and his sister Rachel, both of whom play major roles in the plot.
An Echo in the Bone is vintage Gabaldon, a pleasure to read, difficult to put down, and challenging to review without spoilers. Surprises abound for all characters, including Fergus Fraser and the Lallybroch branch of the clan. The well-kept secret of whether this installment will be the final episode in the Outlander saga keeps the suspense at an even higher pitch up until the very last page. (2009, 814 pages)
More about An Echo in the Bone at Powell's Books or Amazon.com
See the complete Outlander series in order on the Eighteenth Century page

Other novels about women during the American Revolution:
The Tory Widow by Christine Blevins (2009), historical romance about a loyalist widow who falls in love with a patriot rebel. More info
The Governor's Ladies by Deryn Lake (2005), about the American wife of the British Governor of Massachusetts. More info
A Catch of Consequence by Diana Norman (2002), about a patriotic American woman who saves an upperclass Englishman from drowning during the Boston Tea Party. More info

Nonfiction about women and the American Revolution:
Revolutionary Mothers: Women in the Struggle for America's Independence by Carol Berkin (2005). More info
Liberty's Daughters: The Revolutionary Experience of American Women, 1750-1800 by Mary Beth Norton (1981). More info
Revolutionary Women in the War for American Independence by Elizabeth Ellet (1848). More info

Online:
"Contributions of Women during the American Revolution" by Gillian Courtney, Park Ranger at the Stony Point Battlefield State Historic Site in Stony Point, New York



Back to Historical Novels: 18th Century

Back to Directory of Book Reviews