The Eagle of the Ninth
by Rosemary Sutcliff
Reviewed by Margaret Donsbach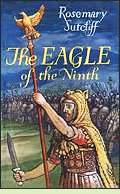 The Eagle of the Ninth is about a young Roman centurion posted in Roman Britain. Marcus Flavius Aquila is discharged from his legion after being badly injured in his first battle. Years ago, his father was lost when the Ninth Legion mysteriously disappeared in northern Britain. When this novel was first published in 1954, the Ninth Legion's disappearance in Britain was believed to be fact. More recent evidence shows the legion was actually moved to the Rhine River after serving in Britain. Whether the legion's disappearance is fact or fiction, though, makes little difference to a reader's enjoyment of the novel.
Crippled, his military career gone forever, Marcus thinks his useful life is over. Still, he makes friends with a native Briton in spite of unpromising circumstances. He acquires a wolf. He attracts a girl. And he sets off on a dangerous adventure in quest of the golden eagle standard of his father's legion. Without it, the disbanded legion can never regain its honor and be revived. Worse, in the hands of hostile British tribes the eagle could become the focus of a serious uprising.
Sutcliff writes vividly of battle, the cameraderie of military life, the tensions between Romans and native Britons, and the wild, green, wet landscape of Britain in the second century. Native British culture was strikingly different from the orderly culture of Rome. "Look now at this shield-boss. See the bulging curves that flow from each other as water flows from water and wind from wind, as the stars turn in the heaven and blown sand drifts into dunes. These are the curves of life..." Adult readers will enjoy this novel as much as teens. (1954; the 2010 movie tie-in edition has 210 pages. Recommended for ages 14 and up.)
More about The Eagle of the Ninth at Powell's Books, Amazon.com
or The Book Depository
Rosemary Sutcliff, an overview of Sutcliff's work by reviewer Annis

Other novels in Sutcliff's Roman Britain trilogy:
#2: The Silver Branch. More info
#3: The Lantern Bearers. More info

Nonfiction about Roman Britain:
Roman Britain: Life at the Edge of Empire by Richard Hobbs (2010), written for adults in a popular style. More info
Life in Roman Britain by Joan Alcock (2006), written for adults in a popular style. More info
Unroman Britain: Exposing the Great Myth of Brittania by Stuart Laycock and Miles Russell (2011), about the native Britons who did not adopt Roman culture after the Roman conquest; written for adults in a scholarly style. More info

At the Movies:
The Eagle
, the 2011 movie based on The Eagle of the Ninth. From the trailer, it looks as though the movie diverges significantly from the novel in some ways. My advice: Read the book first before seeing the movie.

Online:
The Romans in England at the Historic U.K. website



Back to Young Adult Novels: Ancient History

Back to Directory of Book Reviews