A Duty to the Dead
by Charles Todd
Reviewed by Susan Gillmor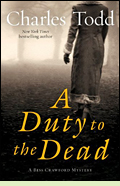 Bess Crawford has a duty to the dead in this World War I mystery by Charles Todd. As "a nursing sister" on the hospital ship Britannic in 1916, Bess tends young Arthur Graham in his final hours of suffering from deadly gangrene in his battle wound. He asks her to deliver a short, mysterious message to his brother in Kent: "Tell Jonathan I lied" and "it has to be set right." Bess promises to fulfill this last wish. Her vow is delayed, however, by a harrowing tragedy when she is injured in the sinking of the Britannic in the Mediterranean.
Less dark, but reminiscent of Todd's Inspector Ian Rutledge from a different series, Bess Crawford is vibrant and intelligent, wise beyond her years from her wartime nursing experience. When her message, finally delivered to wounded Jonathan Graham in Kent, seems to fall on deaf ears, she feels determined to satisfy Arthur's desire for a past wrong to be set right. The entire surviving family, though, seems intent on keeping a crucial secret.
As Bess tries to unravel the secret, she finds evidence of the brutal war and its effects on the British populace everywhere. A neighbor of the Grahams suffers from shellshock, and Bess helps the local doctor subdue him during a violent episode. The parish rector busies himself with constant repairs to his church. Bess believes "he mended his church because he couldn't mend the broken lives and minds brought to him for comfort." There are more troubled souls than he knows in his congregation.
Sorting through the lies, illusions and dangers which keep thwarting her efforts to assure that Arthur Graham rests in peace, Bess remarks to a companion, "I was thinking that truth is a very illusive thing." And indeed it would seem so in A Duty to the Dead, a promising beginning to a series. (2009; 329 pages)
More about A Duty to the Dead at Powell's Books or Amazon.com

Other mysteries involving World War I secrets:
A Test of Wills by Charles Todd (1996), about a Scotland Yard inspector suffering from shell-shock assigned to investigate a case of murder in which the prime suspect is a friend of the Prince of Wales; #1 in the Inspector Rutledge mystery series. More info
By A Slow River by Philippe Claudel (2006), a standalone mystery about a French detective trying to solve cold cases from twenty years earlier when World War I was raging. More info
No Graves as Yet by Anne Perry (2003), about a Cambridge professor plunged into a mystery; set in the period immediately leading up to World War I; #1 in Perry's World War One mystery series. More info

Nonfiction about the Britannic:
Titanic Survivor: The Newly Discovered Memoirs of Violet Jessop Who Survived Both the Titanic and Britannic Disasters edited by John Maxtone-Graham (1997). More info
H.M.H.S. Brittanic: The Last Titan by Simon Mills (1993). More info
The Last Voyage of His Majesty's Hospital Ship Brittanic by John A. Fleming (1998). More info

At the Movies:
Britannic
, a movie made in 2000 about the sinking of the Britannic, the sister-ship of the Titanic

Online:
Lost Liners: Britannic about the sinking of the Britannic at the PBS.org website



Back to 20th Century: World War I Europe

Back to Directory of Book Reviews