Down the Common
by Ann Baer
Reviewed by Susan Gillmor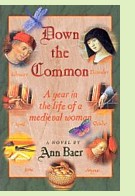 Marion, wife of Peter Carpenter, lives "Down the Common" in the tiny, isolated village where she was born. The location underscores the folk simplicity of the novel's structure and prose. Twelve chapters stand for a twelve month cycle, March through February, like a twelve-panel peasant quilt, stitched on homespun cloth and appliquéd with twelve elemental scenes from Marion's repetitive existence.
As we meet her in March, the dregs of winter still hold the land captive. Marion delivers eggs for Feast Day at the Hall by the Green. From "that refuge in disaster, . . . that ruler of their lives," Sir Hugh and a capable Dame Margaret hold authority. All villagers attend Mass this day, less from a solid faith in the Trinity than as the sensible safeguard ritual brings; no different than not "disobliging the gods that had sent them this life-saving water" from a rock spring.
Marion is grateful for a warm day in June: "How very comfortable to be dry. . . how rare in a woman's life were these dry days." We might envy her fierce sense of belonging: "This is my place, she thought, my earth making my peas grow, my cottage for shelter, . . . my child sitting at my feet scooping earth."
This village with no name and no political or geographical context is Marion's universe, filled with cares and worries for her two surviving children of seven. In the dark of night she reaches often for two-year old Alice, nestled in her damp cradle, to ensure she still breathes. Seven-year old Peterkin, crippled from a childhood burn, may never earn his keep in an adult world.
Marion's experience with "the feeble transiency of life" is far removed from our own until we hear her murmur to a fussy Alice:
Down by the river in the sand in the sun
Lived an old mother rabbit and her little rabbit one.
'Hop,' said the mother. 'We hop,' said the one. . . ."
(1997, 240 pages)
More about Down the Common at Amazon.com

Other novels featuring common people in medieval England:
Pillars of the Earth by Ken Follett (1989). Review and More info from Powell's Books
The Proud Villeins by Valerie Anand (1992), and other novels in the Bridges Over Time series. Review and More info from Amazon.com
Company of Liars: A Novel of the Plague by Karen Maitland (2008). Review and More info from Powell's Books

Nonfiction about the lives of medieval commoners:
The Year 1000: What Life Was Like at the Turn of the First Millenium, An Englishman's World by Robert Lacey and Danny Danziger (1999). More info
Life in a Medieval Village by Frances and Joseph Gies (1989). More info
The Ties that Bound: Peasant Families in Medieval England by Barbara A. Hanawalt (1986). More info



Back to Medieval Angevins page

Back to Directory of Book Reviews