The Doctor and the Diva
by Adrienne McDonnell
Reviewed by Margaret Donsbach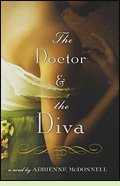 In 1903, when The Doctor and the Diva takes place, physicians had been experimenting with artificial insemination for decades in the hope of helping previously infertile women to conceive. In Boston society, childless women were objects of pity, but their sexual organs were a forbidden topic. Thus, the fictional Doctor Ravell's work "must be handled with the utmost discretion. Few people should be aware of anything except the results."
After six years of marriage, Erika von Kessler has given up hope of having a child. When her husband, Peter, insists she consult Ravell, she confides her despair to the doctor. This is, she says, "the end for me. It's the end for me of everything." But mothering is not the only avenue of achievement open to her, at least in theory. She is a professional mezzo-soprano. If she could go to Italy and devote several years to polishing her technique and cultivating the contacts necessary to launch a career, she might become a successful opera singer.
Plot twist after plot twist increases the pressure on the characters as The Doctor and the Diva explores Erika's competing desires for a child and a career, Ravell's moral qualms about the measures he takes to help her conceive, and Peter's determination to create the family he wants. Unlike Peter, who is indifferent to music, Ravell admires Erika's voice, "a shimmering," and appreciates her desire for an operatic career.
Ironically, it is Ravell's respect for Erika that shifts their relationship into something dangerously sensual. In a society which sentimentalizes women while implying disgust for their physical selves, he is an exception, trained to look at a woman's eyes while examining her body and to speak about it frankly but with restraint. Erika's intimacy with her husband is merely sexual; with Ravell, an intimacy of understanding develops. This is a sexy novel, but readers will find the sex is evoked as elegantly as Erika's voice. (2010; 422 pages, including historical notes on the medical treatment of infertility)
More about The Doctor and the Diva at Powell's Books or Amazon.com

Other novels about doctors and women:
An Instance of the Fingerpost by Iain Pears (1998), a literary mystery about scholars in seventeenth-century Oxford studying the properties of blood, and a poor woman with an ailing mother. See review or more info at Powell's Books
The House of Sight and Shadow by Nicholas Griffin (2000), about a pair of eighteenth-century London doctors exploring the fringes of medicine as anatomists, and the rivalry that develops between them over a woman. More info
Imposture by Benjamin Markovits (2007), about a nineteenth-century doctor dismissed from the service of Lord Byron who falls in love with a young woman who is under the impression he is Byron; #1 in the Byron trilogy. More info

Nonfiction about infertility and childbearing in history:
The Empty Cradle: Infertility in America from Colonial Times to the Present by Margaret Marsh and Wanda Ronner (1996). More info
Barren in the Promised Land: Childless Americans and the Pursuit of Happiness by Elaine Tyler May (1995). More info
Brought to Bed: Childbearing in America, 1750 to 1950 by Judith Walzer Leavitt (1986). More info

Online:
"What Are You, Barren?", an essay about infertility today and in history.



Back to 20th Century: America Before the Wars

Back to Directory of Book Reviews